When Dr. Daniel Levy-Bercowksi came to the Dental College of Georgia at Augusta University for an interview almost 14 years ago, he specifically asked whether they had a facility to treat cleft lip and palate patients because it was of special interest to him.
"[Dr. Jack Yu] was actually on the interview committee, and I knew from day one that I would be working with him," he said. "I came from a different institution so I brought different techniques and different ways to treat the patient. That first year, we combined the best things of him and the best things of me and put it together to give to our patients."
Yu, director of the Craniofacial Center and Hatcher Chair in Surgery, has been at the Medical College of Georgia for 25 years. He was recruited to start the Craniofacial Center in 1994 and is a professor of pediatric surgery and plastic surgery at MCG.
Recently the center, one of only two in Georgia, was accredited again by the American Cleft Palate-Craniofacial Association. The ACPA encourages patients and families to consider first teams they have approved for cleft and craniofacial health care needs.
"The fact that there are only two teams in the state of Georgia speaks for itself," Yu said. "The reason why I want the team to go through this is because this is an external validation process. Why do soldiers want to go to the special forces' training? Why do they want to go through all that to get a badge? It implies that the team has been validated, that the way we do things are the national standard and that we have multiple sets of eyes to make sure we're doing the right thing."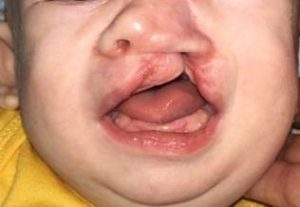 The ACPA created the Commission on Approval of Teams to manage an approval process that facilitates the improvement of team care and ensures accurate information is provided to patients and families/caregivers regarding services provided by teams that meet the Standards for Approval of Cleft Palate and Craniofacial Teams. Centers reapply for approval every five years.
The ACPA is a non-profit association of interested individuals and health care professionals who treat and/or perform research on oral cleft and craniofacial conditions, according to its website. It is a multidisciplinary organization of over 2,400 members, representing more than 30 disciplines in 60 countries.
According to the Centers for Disease Control and Prevention, it was recently estimated that each year in the United States about 2,650 babies are born with a cleft palate, and 4,440 babies are born with a cleft lip with or without a cleft palate. Isolated orofacial clefts, or clefts that occur with no other major birth defects, are one of the most common types of birth defects in the United States. Depending on the cleft type, the rate of isolated orofacial clefts can vary from 50% to 80% of all clefts.
"From this, we can estimate the incidence of total cleft lip and palate, given that the population of Georgia is 10 million, about 3% of the U.S. population (325 million)," Yu said. "Three percent of 7,090 is 218. That is, each year, 218 babies are born in the state of Georgia with cleft palate or cleft lip or both."
Yu said part of the reason he is still here is to make a difference in the lives of patients who can grow up and have children of their own.
"In life, you want to have a very meaningful life, and this is very meaningful to me," Yu said. "I enjoy taking care of these patients. It's only through this type of long-term practice in one location that you can have long-term follow up. Otherwise, you wouldn't be able to tell what kind of result you're getting."
The Children's Hospital of Georgia team at Augusta University consists of 16 members, ranging from surgeons (plastic and ENT) to orthodontist to speech therapist. Patients meet with the team, which then tracks the outcome.
Yu said the process for approval took about half a year and "I think we're a better team because of that."
Levy-Bercowksi said the orthodontics clinic the Dental College of Georgia at Augusta University is one of the best in the state.
"We have everything. We have the 3-D technology and all the materials, so whatever our patients need, we have it," he said. "I am lucky to be here and I think the patients are lucky, too."