Madeline Mitchell Wills, an accomplished attorney with health care and corporate legal experience, has been named Augusta University Health System's General Counsel, effective Jan. 18.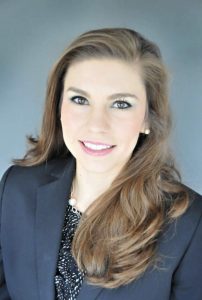 Wills joined AU Health in 2016 as an Assistant General Counsel and has served in the role of Associate General Counsel since 2019. In these positions, she provided legal support on a variety of strategic health care initiatives, including, most recently, overseeing the legal, regulatory and risk aspects of the health system's COVID-19 response. Before joining AU Health, Wills held legal roles at some of the Southeast's top law firms, including Morris, Manning & Martin, LLP, and Hall Booth Smith, P.C. She also held a prestigious clerkship with the Honorable James E. Graham, Magistrate Judge for the United States District Court for the Southern District of Georgia in Brunswick, Georgia.
As General Counsel for AU Health, Wills will serve as the chief legal officer, leading the Office of Legal Affairs, and be responsible for developing and implementing legal strategies that support the mission and vision of the health system.
"Madeline is a trusted and proven leader with an impressive record of accomplishments at AU Health," said AU Health CEO Katrina Keefer. "We are fortunate to have someone with Madeline's organizational knowledge and experience take on this key role in our organization."
Wills is a member of several professional organizations, including the State Bar of Georgia, Georgia Hospital Association, Georgia Academy of Healthcare Attorneys, Augusta Bar Association, and Rotary Club of Augusta. She is a 2015 graduate of the Young Lawyers Division Leadership Academy and a member of 2019 Class of Leadership Augusta. She is admitted to practice in the Supreme Court of Georgia, Court of Appeals, and the United States District Courts for the Northern and Southern Districts of Georgia.
Wills is from Augusta and graduated valedictorian from Aquinas High School. She earned a bachelor's degree in Banking and Finance, magna cum laude, from the Terry Business College and a Graduate Coursework Capstone in Legal Studies, with highest honors, from the Moore Honors College, and her Juris Doctor, cum laude, from the School of Law, all at the University of Georgia.