Asian Americans and Pacific Islanders (AAPI) are the fastest-growing racial group in the United States, accounting for 18.2 million (5.6%) of the nation's population, according to the 2020 census data.
The Asian-American population represents more than 30 countries, speaking more than 100 different languages while contributing 11.5% of the U.S. workforce. According to the city of Augusta, the Asian population in Augusta-Richmond County is about 4,297 people or 1.9% of the total population.
With that information at hand, faculty and staff in Augusta University's College of Nursing, College of Allied Health Sciences, the Dental College of Georgia and the Nurse-Managed Health Center (NMHC) have partnered together to create the Asian Wellness Program, which hosts health fairs geared toward the Chinese, Filipino, Korean and Vietnamese communities.
Dr. Christine Nguyen, an assistant professor in the Biobehavioral Nursing Program, and Dr. Lufei Young, an associate professor in the College of Nursing, said the AAPI population is among the least likely to report having a personal doctor and are less likely to have blood pressure monitoring and annual wellness checks, which prompted the decision to have these health fairs.
Nguyen said Asian Americans face cultural and linguistic barriers that might discourage or prevent them from accessing health care services, particularly for mental health problems, which are high in the Asian American community. For example, the highest rate of suicidal ideations (56.8%) is among older Asian women who are primary care patients with mental disorders such as depression and anxiety, and are more at risk for alcohol use problems compared with older non-Hispanic whites, African Americans and Hispanics.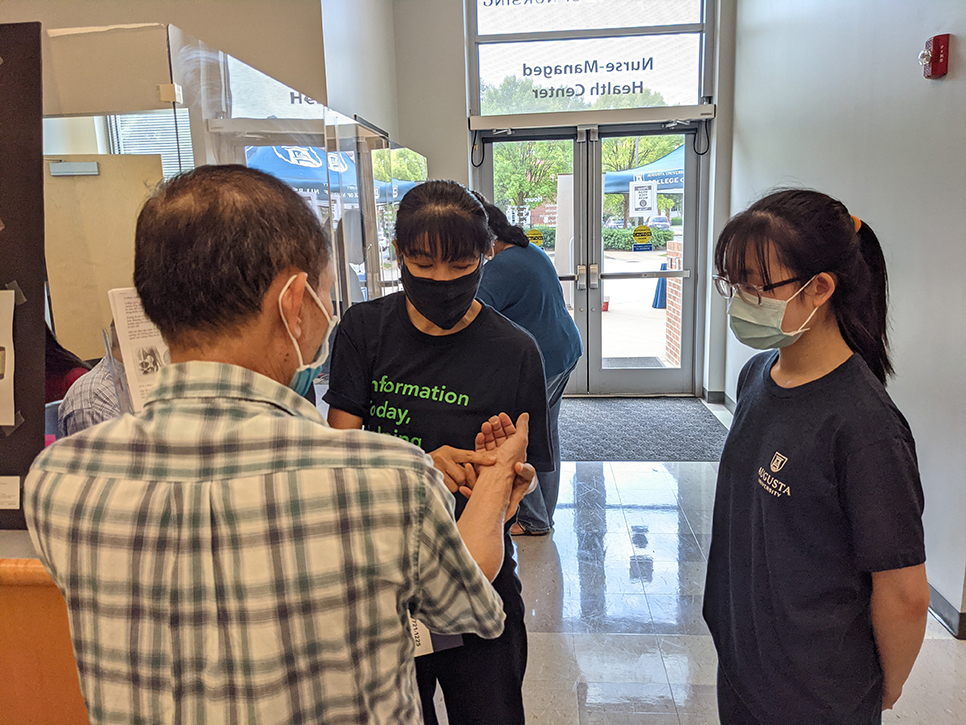 "The primary objective for the health fair's implementation is to extend and expand the culturally competent care to Asian populations in Augusta and the surrounding area," Nguyen said. "CON-NMHC believes that a culturally competent health care system can help improve health outcomes and quality of care and can contribute to the elimination of racial and ethnic health disparities."
Studies showed significant health disparities between certain groups of Asian Americans and non-Asians, Young added.
"It's key for Asian Americans and Pacific Islanders to understand the importance of wellness checks, annual doctor visits and preventive care," Young said. "However, there are many challenging barriers for AAPI to access health care, such as language, cultural, belief and trust. Driven by the existing health disparity encountered by many AAPI members, we would like to provide education and raise awareness about AU-based health promotion and disease prevention programs through Asian health fairs."
Young also noted that AAPI have higher occurrences of breast, liver and stomach cancer; higher prevalence of chronic obstructive pulmonary disease, hepatitis B, HIV/AIDS, tuberculosis and liver disease; higher cardiac risk factors such as obesity, high blood pressure and diabetes; little to no insurance coverage; and higher tobacco use.
"One of the highest risk groups for breast cancer is U.S.-born Vietnamese women, who are four times greater of dying of breast cancer than any other ethnic groups," Young said. "AAPIs are also twice as likely to have stomach and liver cancer than non-Hispanic whites and are twice as likely to die from these cancers compared with non-Hispanic whites."
The group held its first health fair for the Vietnamese community Aug. 28 at the Nurse-Managed Health Center. During that time, visitors were assessed for overall health history, lifestyle risk factors, environmental hazards and anthropometric measurements (including height, weight, body circumferences and blood pressure). They also underwent a mental health screening; a physical functioning test and fall risk screening; an assessment of their cardiac risk factors (including a blood test of fasting glucose); an HIV/AIDS screening; dental screenings and counselling; and education on exercise safety, nutrition and household safety.
"The Centers for Disease Control and Prevention has developed a STEADI Tool to determine if an individual might be a 'fall risk,'" said Dr. Lori Bolgla, a professor in the Department of Physical Therapy in the College of Allied Health Sciences. "Participants undergo the testing protocol and receive feedback to determine if they represent a fall risk. We also have a portable balance plate that assesses an individual's postural sway and compares the sway to sex- and age-matched normative data to further assess for fall risk. Anyone who presents as a fall risk is encouraged to follow up with a primary care health provider for referral to a balance/vestibular rehabilitation."
The remaining health fairs will be Sept. 25 for the Chinese community at the Chinese Consolidated Benevolent Association of Augusta, 548 Walker St., on Oct. 30 for the Korean community at 2664 Barton Chapel Road Suite A and Nov. 13 for the Filipino community, both at the Nurse-Managed Health Center, 987 St. Sebastian Way, Suite 1500.
Tranika Brown, DNP, FNP, APRN, has served as the lead primary care nurse practitioner at the Nurse-Managed Health Center for the past two years. She said she's worked with Nguyen in identifying underserved populations within our community.
"Additionally, we have brainstormed on ways to assist with health awareness and disease prevention."
Nguyen and Young appreciate the support the Nurse-Managed Health Center has provided for this community service.
"It takes a village to do community-based health promotion and disease prevention programs," Young said. "We have a superb, multidisciplinary team, including nurses, doctors, physical therapists, occupational specialists, administrators, mental health experts and other disciplines. Together, we provide high-quality, comprehensive, collaborative and coordinated community service.
"Not only does each member of the team have expertise and professionalism, but we also are able to work cohesively and productively to promote health in these underserved populations. Additionally, we can provide subsequent follow-ups to meet their needs and sustain the program for future."