Mental health has been at the forefront of conversations around the world in recent years, with awareness growing amid the COVID-19 pandemic. These discussions have also brought to light why mental health issues are a particular concern for Americans who are Black, Indigenous, or other people of color (BIPOC).
Since 2008, July has been recognized as BIPOC Mental Health Awareness Month, and medical organizations and advocacy groups have ramped up efforts to highlight the gap in the BIPOC community finding mental health care and helping these individuals get the treatment they need.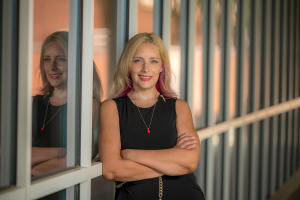 Melanie Wilcox
, PhD, an assistant professor in the
Department of Psychological Sciences
,
Institute of Public and Preventive Health
, and the
Department of Psychiatry
at Augusta University studies the economic barriers that people — particularly BIPOC Americans — face as a result of historic marginalization and the resulting challenges for mental health.
"BIPOC Mental Health Month is an opportunity for us to raise awareness while also encouraging people to advocate and take action with regard to the mental health detriments experienced by people of color as a result of systemic and structural racism," Wilcox said.
BIPOC Americans have traditionally experienced mental health disorders at similar rates as white Americans. However, the Department of Health revealed that BIPOC Americans "have less access to mental health care, are less likely to get needed treatment, and are more likely to delay care or not seek it at all. When BIPOC Americans do get mental health treatment, it is likelier to be low quality."
In recent years, police brutality against Black individuals and hate crimes against Asian people have made national news, adding to the mental struggles that BIPOC individuals face and making it more difficult for them to heal when mental health care is not easily accessible.
"Different statistics suggest that BIPOC individuals experience some mental health concerns at greater rates while some suggest that they experience mental health concerns at about the same rates," Wilcox said.
"Either way, their access to quality mental health treatment is much poorer than the access to mental health treatment and quality mental health treatment that white people tend to experience. On top of this, they experience more detrimental stressors, such as experiencing various forms of racism, and then they aren't able to access the mental health care that they need to actually start to heal from those things."
Issues surrounding mental health for BIPOC Americans are not endured by only adults, but also students of all ages. Among her numerous areas of research, Wilcox studies racial and economic inequities, racism and antiracism, the student loan debt crisis, socioeconomic status and social class.
"My studies have included racial and socioeconomic disparities in higher education, not the things that are necessarily academic focused, but rather the things that keep students from being able to focus on their academics," Wilcox said.
"Students of color and lower socioeconomic status students experience greater food insecurity and greater housing insecurity, so they're struggling to get their basic needs met, much less any higher order needs than that. Experiencing these stressors where you can't get even your most basic needs met is a significant detriment to mental health," Wilcox said.
"We have to do more to help attend to some of these real stressors in the environment, whether that is racism in the most explicit sense, or again, the racial disparities as a result of historic racism."
One problem that Wilcox is hoping will continue to be addressed is the way systems of oppression are discussed within the medical professions, particularly in the field of mental health.
"One of the things I study is culturally responsive care, and I encourage people to challenge the use of the word 'culture' in certain contexts. Very often people, and especially people of color, are told to just think about their problems differently or sometimes their concerns about the very real racist stressors that they are experiencing in their environment are minimized," Wilcox said.
"This is an opportunity for us to raise awareness of that fact and to encourage people to get involved by advocating, including the other 11 months out of the year, to better increase access to quality mental health services for people of color."