Marcus Corulli has always been big on computers. Even at a young age, he and his dad would dig into them, tear them apart and rebuild them.
Corulli was 8 years old when he first started tinkering with the mechanics of them. When he was 12, he started writing code. Now, he'll be a senior at Augusta University's School of Computer and Cyber Sciences and is on the path to graduating with a Bachelor of Science in Cybersecurity Engineering.
He won't just complete his degree, but through his coursework and internship experience, he hopes to graduate with a job lined up and waiting in the wings.
What started as a hobby has become his passion. Playing the video game Minecraft sparked his interest in coding, as he wanted to modify the game.
Corulli still works on computers and even recently overhauled his own. He replaced his motherboard, added new components and reinstalled it all. He readily admits he loves to tinker with computers and everything about them.
Augusta University's School of Computer and Cyber Sciences was an obvious choice for Corulli, since it offered the cyber programs he was seeking.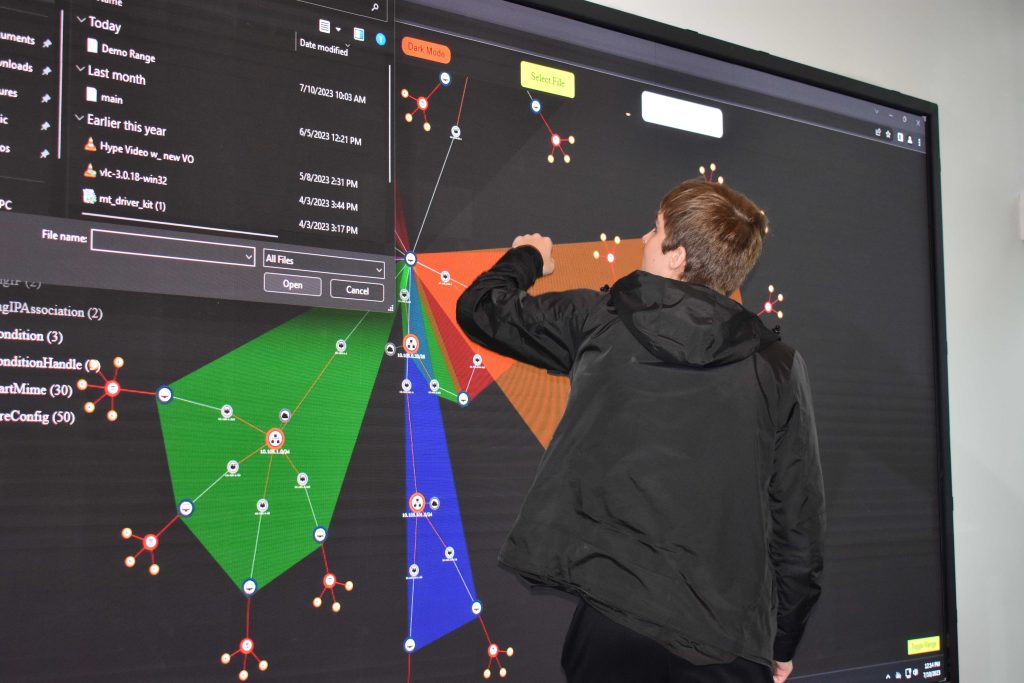 His choice of major was also straightforward.
"I was talking to my adviser and told her that I was passionate about cyber, but also really liked math and things like that. She said it would be a good fit because it's like cyber plus math," said Corulli.
He's the type of student who likes to be challenged, and some classes have pushed him, including electronics with Joseph Hauger, PhD.
"That was really awesome because just getting into voltages and the lower level things like that have always fascinated me. All the computers and all this stuff runs on this basic physics and electricity. But it's the complicated stuff that occurs in unison and all the parts working together and that just fascinates me. Even to this day, we tricked a piece of silicon into thinking," said Corulli with a smile.
He added he liked Hauger's enthusiastic teaching style and having two electronic courses with him got Corulli passionate about some of the lower level processes.
Corulli also pointed to Paul Attie, PhD, who taught an operating system course. It was a real challenge, he said, seeing as the work went well beyond the classroom.
"I actually enjoyed his class the most because he had some really good programming projects where he had us create our own Peterson's algorithm for managing resources and stopping process and starting new processes, so very challenging."
Corulli served as an intern with the Georgia Cyber Range, where he was working on software development and writing code.
He also played a vital role as lead developer of the innovative OpenStack topology graph project, crafting visual representations of intricate networks under construction.
After he graduates, he hopes to go to work with the Georgia Cyber Range.
"What they basically do is they're contracted by academia, private industry and government, and they spin up these virtual ranges. I really like the work environment and the tasks they give me. Just figuring things out is like a puzzle every day, and I like writing code for them."
He also compares his duties to a puzzle. There may be multiple ways to solve a problem, but cybersecurity engineers have to find the best one.
If his major didn't take up enough of his time, Carulli is also in the Honors Program. To go along with his coursework, he's in the process of writing his thesis. He said it can be a little overwhelming, but he still enjoys the challenges.
As far as the future, he'll take it as it comes, knowing his studies at Augusta University and internship experience have prepared him well.
"I thought about working somewhere within just either software development or cybersecurity, somewhere around there. So whatever happens, happens."