The artwork of Cheryl Goldsleger, Augusta University's Morris Eminent Scholar in Art, will soon be returning home after being part of an exhibition in Venice.
Cheryl Goldsleger, Augusta University's Morris Eminent Scholar in Art, was overwhelmed when she walked into the Palazzo Bembo in the heart of Venice earlier this year and saw three of her paintings on display. The works were included in an exhibition organized by the European Cultural Centre during the 2019 Venice Biennale.
"The space, Palazzo Bembo, is absolutely beautiful," Goldsleger said. "It's an enormous, old palace and the floor that my work is on, it's what Italians call the 'noble floor' because it is the principal floor of the building with high, ornate ceilings.
"It was wonderful because the space was prominent, so my work was located really well in this large group show. You saw my paintings almost as soon as you walked in the building."
The Venice Biennale, which was founded in 1895, is one of the most prestigious art exhibitions in the world that attracts more than 500,000 visitors to Venice each year. It is such a popular event that numerous satellite exhibitions run throughout the Biennale's season beginning in May and ending in November.
The European Cultural Centre's exhibition, which was sponsored by the Global Art Affairs Foundation, is presented in the context of the 2019 Venice Biennale and is being held until Nov. 24 in three locations: Palazzo Bembo, Palazzo Mora and Giardini Marinaressa in Venice.
"It is a big group show that is made up of individual artists' exhibitions," Goldsleger said. "You walk from space to space and room to room and you get a whole experience of this artist and that artist from all around the world."
Shannon Morris, director of the Mary S. Byrd Gallery of Art at Augusta University, received an invitation last year from the European Cultural Centre to present artwork from the university for its exhibition, Personal Structures: Identities.
For the exhibition, Goldsleger presented an installation called Vast Scale – Intimate Space, which featured three large mixed-media paintings, Transient, Tenuous and Coalescence.
The combination of the Venice Biennale and the satellite exhibitions is an art lover's paradise because there are hundreds of shows spread throughout the city, Goldsleger said.
"There are more than 200 exhibitions going on around Venice and the 2019 Venice Biennale had more countries participating than ever before," Goldsleger said. "A ticket to the Biennale is only $28, so anybody can go. And for that price, you basically get an international passport to art from around the world."
International exposure in Venice
While Goldsleger's work has been featured in numerous museums across the globe such as the Museum of Modern Art in New York, the High Museum of Art in Atlanta, the Fogg Museum at Harvard University and the Tel Aviv Museum of Art, she was honored to have her artwork showcased on such an international stage.
"I met curators and artists from all over the world, including several from Germany, Italy, Australia, Japan and England," Goldsleger said. "It is amazing because, even in New York, it's unusual to have that kind of international exposure. But Venice is Venice and people want to come to Venice as a place to vacation, but they also come to see the art."
For her show, Goldsleger's three paintings combined geometric and diagrammatic imagery with the drafting skills of map makers to create real and imagined locations.
"In my art, I incorporate mapping and, several years ago, I learned a type of mapping called Geographic Information Systems or GIS," Goldsleger explained. "Using a software program, you create maps that tell certain stories. You can emphasize certain details, pull out details and you can eliminate details."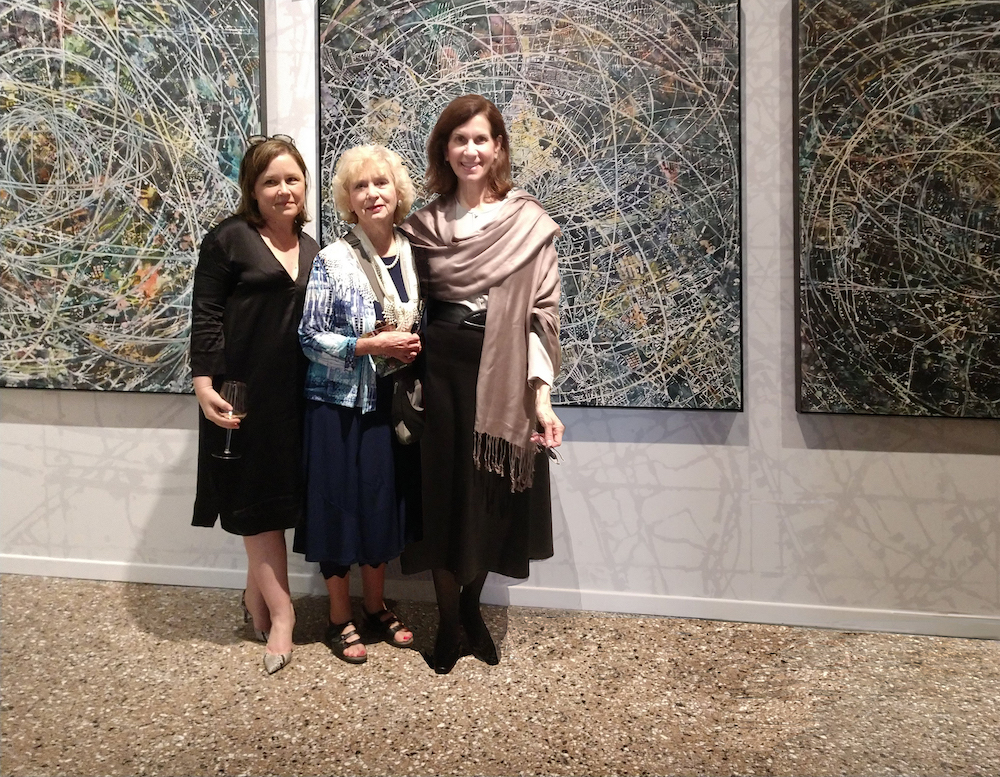 Morris felt Goldsleger's artwork was a perfect reflection of the exhibition's theme on the concept of identities.
"Common to all human beings is our temporary occupation of the Earth," Morris wrote, describing Goldsleger's artwork for the European Cultural Centre's 2019 Personal Structures Catalogue. "Throughout her career, Cheryl Goldsleger has explored the concept of place and how humans occupy interior and exterior spaces."
In her artwork for the Venice exhibition, Goldsleger wanted to address the arbitrary nature of society's boundaries.
"As the way we inhabit the world continues to evolve, Goldsleger's interests persist, expanding from the study of architectural renderings to maps," Morris wrote. "Functioning not only as representations but also as concepts, maps, similar to lines drawn by the artist, represent the idea of a place."
Not long after the European Cultural Centre's exhibition opened in May, an international contemporary art magazine in Italy called Juliet reviewed the show and mentioned Goldsleger's work.
"Personal Structures – Identities focuses on current issues and asks to rethink art, ethics, aesthetics, politics, and their possible narratives, through positions that are never extreme, but clear in the lines of thought," stated Juliet Art Magazine writer Sara Buoso.
Buoso wrote that Goldsleger's paintings introduce the viewer to "a perspective, we will say, satellite, of our planet with its relative and gravitational motions."
The audience who came to view Goldsleger's paintings seemed to appreciate her mapping skills and geometric imagery.
"People liked the work and I got a very positive reaction," Goldsleger said. "And when the writer for Juliet singled out a few artists and decided to single out my work, I was thrilled."
Art and the climate crisis
A few months after Goldsleger and Morris visited Venice this past spring, they were asked to participate as panel members in the main event of the European Cultural Centre's Land(ing) Art Week program in October.
The two representatives from Augusta University returned to Venice to participate in a panel discussion on Oct. 25 regarding the roles of art, design and science in the midst of environmental concerns.
Along with Goldsleger and Morris, the panel included photographer Claudia Schildknecht, biologist and researcher Daniele Brigolin and fashion designer Monika Zabel.
"It was basically a symposium on art, science and environment," Goldsleger said. "Daniele Brigolin is a professor at the Università Ca' Foscari Venezia and he does research on aquaponics. Basically, he is growing vegetables in water. There's no soil, but it's water that they are also using to raise fish."
Listening to Brigolin's research was fascinating in terms of dealing with future environmental challenges, Goldsleger said.
"He's filtering the water from the fish to feed the plants and getting the nutrients back to the fish," Goldsleger said. "But his approach during the discussion was, 'I do this really interesting research, but people in Italy are really skeptical about it because they are used to plants growing in the ground.' However, based on population growth and environmental changes, we need to start asking, 'How sustainable is it to continue growing plants in the ground?'"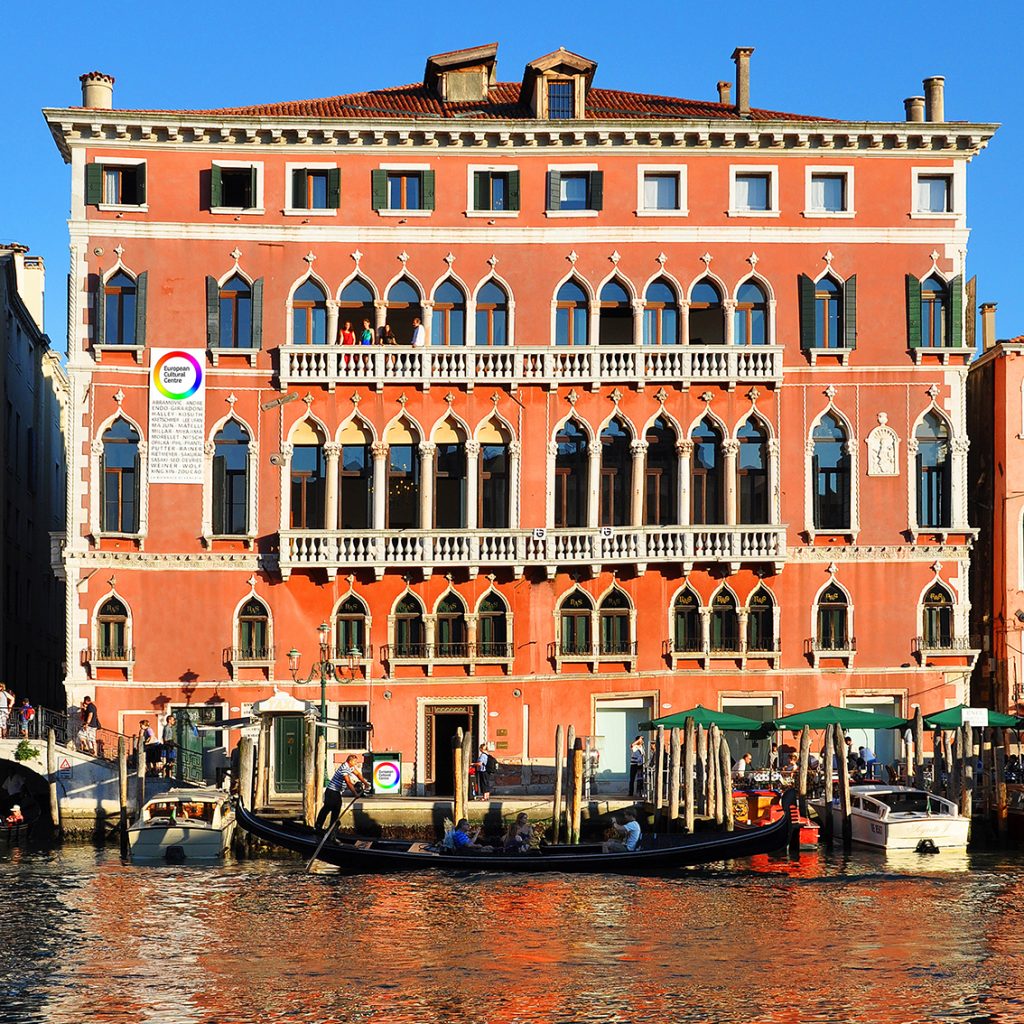 Each of the panelists brought something different to the table, Goldsleger said.
"Monika Zabel had three clothing designs that she made for the Venice Design Show that the European Cultural Centre put on," Goldsleger said. "She talked about how much waste there is in the fashion industry. In fact, she started off with the fact that polyester never deteriorates.
"All of these polyester clothes are going to live forever and they are never going to break down, which is a scary thought considering how much of it there is out there. So that's a huge waste."
Zabel also discussed people's wasteful nature when it comes to clothing.
"She had a statistic that people only wear one item of clothing 35 times," Goldsleger said. "After that, they want to discard it and get new clothes."
Schildknecht, the photographer, focused on a project about the destruction of the coral reefs and what that means for the entire planet.
As for Morris, she discussed how other artists deal with environmental issues in their work. "She talked about the Japanese artist, Yuken Teruya, who uses cut paper bag pieces in his work," Goldsleger said. "He was cutting out these trees and leaves from paper bags, so he was creating natural objects from what the paper bag was actually made from."
Climate can change borders
For her part in the panel discussion, Goldsleger talked about how climate change impacts migration issues around the world.
"My artwork includes ideas about how boundaries and borders don't make sense," Goldsleger said. "They are not tied into the organic, natural structures of typography. But, also the fact that, as climate change begins to impact more areas around the globe, people will have to move. They will have to leave places that become uninhabitable."
Goldsleger used examples such as the aftermath of Hurricane Katrina and its impact on New Orleans and the surrounding areas.
"More than 1 million people got displaced from Hurricane Katrina," Goldsleger said. "The population of New Orleans proper was about 480,000 people and it was cut in half right after Katrina."
She also looked at international climate disasters impacting countries such as Somalia and Syria.
"In Syria there was a major drought from 2006-10," Goldsleger said. "Climate change can really have this domino effect. If the environmental conditions are harsh, food becomes scarce, people can't sustain themselves, which begins to disrupt whatever sort of political stability the area might have. Now, look what we have going on in Syria."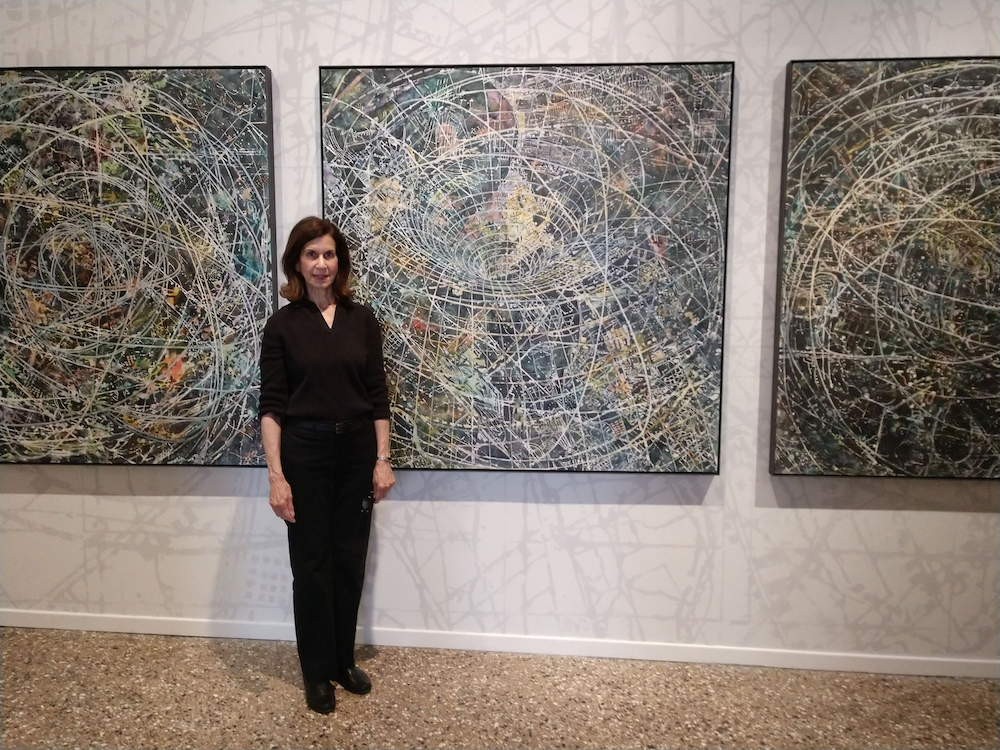 Flooding, drought and extreme weather like hurricanes and tornadoes can change an entire region, Goldsleger said.
"Since we were in Venice, I also talked about the flooding that occurred in Venice a year ago," Goldsleger said. "It was the worst flood in Venice in years with water that was more than five feet deep. Of course, now, there are a lot of coastal cities that are starting to flood."
A growing population can only ignore flooding for so long, Goldsleger said.
"Right now, the water subsides, but there is going to be a point when it doesn't and people are going to have to move," Goldsleger said. "And I think those kinds of conversations are finally happening in a lot of places."
Both trips to Venice were so eye opening that Goldsleger said she'd love for Augusta University to plan a study abroad trip for art students during the Venice Biennale sometime in the future.
"In May, a professor that I know at Georgia State University, Cynthia Farnell, brought about 20 students to Venice," Goldsleger said. "I met them at Palazzo Bembo, we looked at the artwork and then sat out in that main space and just had a conversation about my paintings and my studio practice. Plus they were given a tour of the entire exhibition at all of the venues.
"It was such a great opportunity for those students. I would love to see a similar opportunity for students here at Augusta University."
Goldsleger's artwork will be included in a traveling international show on display at the Gertrude Herbert Institute of Art at 506 Telfair St. in downtown Augusta this month, with an opening reception on Friday, Nov. 22. The exhibition travels to Art Alive Gallery and Jawaharlal Nehru University in New Delhi, India. In fall 2020, a major solo exhibition of her work will open at the Delaware Contemporary Museum in Wilmington, Delaware.