Alphonso Ruffin Jr. has left a lasting impression wherever he's been.
A 2014 alumnus of Augusta University's Pamplin College of Arts, Humanities, and Social Sciences, he graduated with a bachelor's in sociology and a minor in communications. Now, after almost 15 years with the company, he operates a Chick-fil-A franchise in Millington, Tennessee.
He likes to be challenged, but he also strives for excellence, even with the daily responsibilities that don't include running a business. But for anyone who signs up to work on his team — know that he is going to push you to meet your full potential.
"My vision is a daily pursuit of excellence and a passion for people," Ruffin said. "Excellence is not perfection; however, it is a relentless pursuit of perfection."
An early start with Augusta University
Ruffin was born in Heidelberg, Germany, where his father was stationed. Near the end of his military career, they were able to come home to Augusta, where Ruffin grew up surrounded by family.
When it came time to start thinking about college, he leaned on his sisters for advice. One went to the University of Georgia while the other attended then-Augusta State University. What solidified his decision to stay local was when he took some dual enrollment classes during his senior year at The Academy of Richmond County.
"I took those college classes and honestly, I loved the campus and the atmosphere," he said. "I like the fact that if I were to stay home, I'd be able to have my car but I'd be also able to stay involved with my church and my friend group. And I just loved my very first college professor, who had a big impact in college."
Lisa Smoot, lecturer in the Department of Social Sciences, has always considered Ruffin, who she calls "Phonso," mature beyond his years. She remembers teaching him as a 16-year-old, and knew early on he was going to be a force to be reckoned with.
"During first-day introductions, here he was, in his full Chick-fil-A attire and stating he was going to own a Chick-fil-A one day," Smoot said. "When kids first attend college, they are young and have various dreams and ambitions. Phonso never deviated from his vision."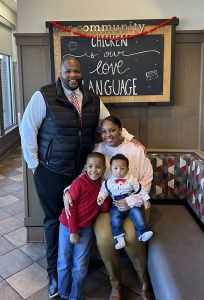 Smoot said Ruffin was able to challenge the class in their thinking during discussions, especially when the topic was centered on religion, but he always maintained a level of respect and never tried to sway anyone to adopt his beliefs.
"He was always, 'Well, you know, think about it from this perspective.' He always had some very thoughtful, provoking aspects to add to our classroom discussions," she said.
It wasn't long after taking her classes that Ruffin decided to major in sociology. While some in his circle questioned his decision to focus on that instead of business management, he said the decision was an easy one to make.
"Initially I wanted to be an entertainment lawyer because I love the music industry, but also I love sports. But then I came in contact with my operator at Chick-fil-A and he helped change the trajectory of my future," Ruffin said.
"After thinking about my future and what might lie ahead at Chick-fil-A, I'd be working alongside a lot of people. As I began to take sociology classes, I told myself and others that if I'm going to work in this business, I need to be able to understand what impacts people. And that's where the minor comes into play. I'm going to have to communicate with them — verbally and written. I'm so grateful and thankful for not only the English department but also the social sciences department, which allowed me to think outside of the box on a lot of things."
Dedicated to a Chick-fil-A career
Kenny Hanna, franchise owner of the Chick-fil-A in Augusta Exchange, was working at the Augusta Mall when Ruffin came in for an interview. Hanna remembers being blown away when he showed up in a three-piece suit for a quick-service restaurant job.
"That means he was taking the opportunity seriously, so we sat down and I talked with him and he was very well spoken, very well-mannered and we talked about the opportunity we had for him at the time," Hanna said.
"He presented himself well. First impression goes a long way. And the fact that he shows up in a three-piece suit, I'm like, 'Wow, this guy's taking this serious.' So I felt like if he took his interview serious, then he would take his job serious and he ended up taking his job very serious, which led him to where he is now."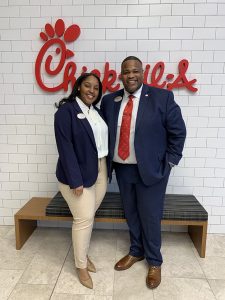 Hanna said despite their brief time working together, he could tell Ruffin had a strong work ethic and a drive to succeed. Hanna said he always provided a great guest experience while working on the front counter and consistently fulfilled Chick-fil-A's vision and mission.
"I knew that whether he became an operator or did something else in life, I felt like Alphonso would do great wherever he went because he just kind of has that 'it factor,'" Hanna said. "He worked hard, he always did his job well and he cared about his work. He had a positive attitude and when you went to him and communicate and gave him feedback, whether it was constructive criticism or positive feedback, he's always took it, accepted it, processed it and tried to make himself better."
They recently ran into each other at Chick-fil-A's annual conference and it reminded Hanna of his initial meeting with Ruffin and how far he's come during his time with Chick-fil-A.
"People don't understand how hard it is to become an operator," he said. "So just to be able to see him there and be like, 'Hey, man, you did the work, you put in the time. You sacrificed a lot. You're here now; you're an example of what it can mean to do the work and sacrifice.'"
'A vibe of positivity'
For Smoot, Ruffin was a student that she "reached."
"As educators, we teach to reach others," she said. "Teaching is my passion, but most importantly, supporting students and helping them see the value in themselves and trusting their own ability is most rewarding."
Smoot feels blessed to still have Ruffin in her life.
"He still creates a balance; he has a vibe of positivity. He will always go out his way to assist others," she said. "If he can assist you, he will. He seeks to feed others, not just in his career, but in life. He feeds and nourishes the things he touches. He's taught me to challenge myself in certain aspects and to sometimes say, 'If today isn't the best, tomorrow can be.'"
March will mark 15 years that Ruffin has been working with Chick-fil-A and one year of owning his own restaurant in Tennessee. During that time he married his wife Kenya and is the proud father of two boys, Zuri, 5, and Anson, who is five months old. His hard work and dedication was evident during his time in Augusta, when he worked at several of the area locations before becoming a corporate trainer. He said his personal mission is to provide hope for others by meeting them where they are and helping them get to where they want to go.
"If they're going to be in my presence, I'm going to meet them where they're at and help them get to where they want to go," Ruffin said.
"The average demographic or age group is 16 to 25. What better opportunity to meet these young people where they're at and help change the trajectory of their life or to help them say, 'Hey, I came in contact with somebody who cares about me and cares more than just what I can come to work and do for them, but actually cares to pour into me.'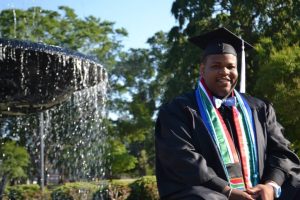 "My team members will tell you that I'm on them about school, showing up to work on time because this is what it means for their future. I am going to challenge them like I'm going to love them, because what better way to have impact for somebody then to be placed in a very strategic position — to not only be able to have influence on them, but to help change their mindset toward what they're doing."
Representing AU in the community
Recently, Chick-fil-A donated $100,000 to AU to support two minority-driven initiatives: to help fund minority scholarships for medical students at the Medical College of Georgia and to help recruit more Black males to become educators through the College of Education. Ruffin says the donation is a great thing and he is honored to be connected to both AU and Chick-fil-A.
"To know that the company that I'm in business with is giving to my alma mater, for those reasons especially, it just makes me ecstatic," Ruffin said. "We get to impact people but we also get to help change lives as well. And that's what our founder, Truett Cathy, was about. He was the epitome of being selfless and being able to give back. So I feel like Chick-fil-A is staying true to our corporate partners and who we are. It feels amazing to know I'm connected to the institution that Chick-fil-A is giving to."
Smoot said it brings tears to her eyes thinking about the person Ruffin is today. "He is a great representation of fortitude and dedication not only for Augusta University, but the community as well, to show how passion can guide your journey," she said.
"I think Phonso is the epitome of maturity, responsibility and just having a pure heart because there are very few like him," Smoot said. "He stands out because he is consistent. For AU, this is not just about a graduate. This is a person who consistently stays steadfast on that journey and never wavered under pressure. He could have easily said, 'It's not worth it.' But, to know him is to know that isn't in him. Despite the roadblocks, stop signs or detours, Phonso would say 'I just have to be patient, what is meant for me is meant for me and I will not give up.'
"The one thing that we do, especially in the social sciences department, is that we encourage and support our students. Our department contributed to Phonso's sociological lens. To see that circumstances do not define you and failures do not determine your destiny. He is carrying all these lessons in his daily interactions," Smoot said.
"His family and AU provided great backing in regard to his support. Phonso represents AU in that we are taught that the future belongs to those who believe in the beauty of their dreams here. He showed everyone that dreaming big is possible with execution."