Just last month, Augusta University alumna Terri Green, a science teacher at Lucy C. Laney Comprehensive High School, was named the winner of the Teacher of the Year in Richmond County. Two more Augusta University alumni, Brook Andrews and Allison Dixon, were finalists for Columbia County Teacher of the Year.
Judi Wilson, EdD, dean of the College of Education and Human Development at Augusta University, said she could not be prouder of all the alumni nominated for Teacher of the Year.
"We work extremely hard to prepare our students well for the realities of the classroom," Wilson said. "Our alumni are well equipped with the knowledge, skills and dispositions needed to be highly effective teachers. Our Augusta University alums consistently represent us with excellence, and that is evident from the number of Teacher of the Year finalists we have every single year. It is a joy and honor to celebrate their powerful stories of impact with our community."
Richmond County Teacher of the Year: Terri Green
Terri Green, who earned a Master of Arts in Teaching with an emphasis on curriculum and instruction and a Tier I Certification in Leadership from Augusta University, said being named Richmond County Teacher of the Year has been a humbling experience.
"It's exciting to know that people would think me worthy of representing all the teachers in Richmond County as Teacher of the Year," Green said. "I sincerely enjoy teaching. And I just want my students to feel like I have been the Teacher of the Year to them. After all, getting recognized by your colleagues is wonderful, but as long as the students feel like I have given them that quality experience in the classroom, that's what it is all about for me."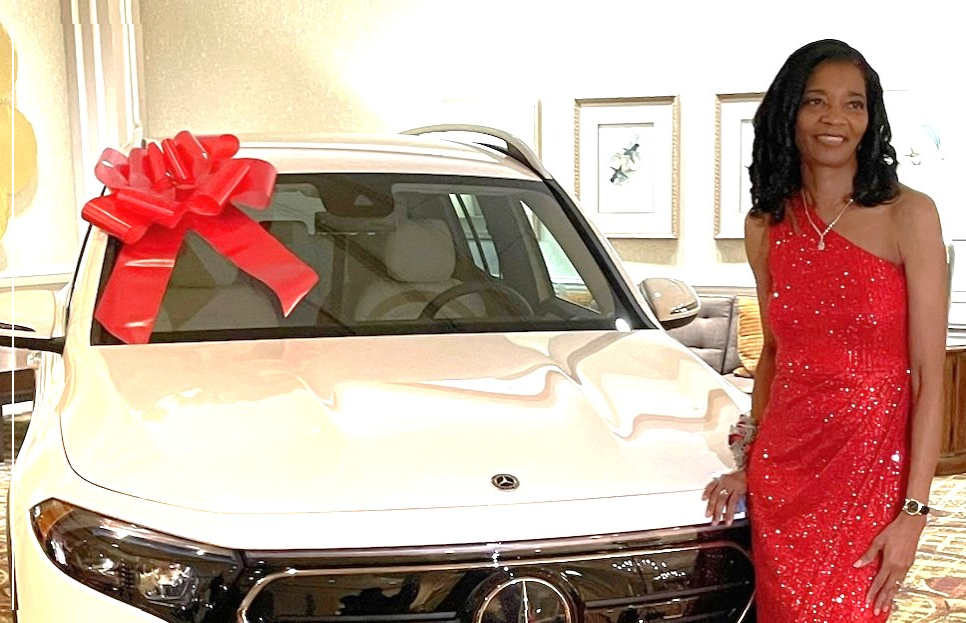 Green, who has taught in the Richmond County School System for 13 years, said she actually began her career in the health care field, working the evening shift, and a friend asked if she would be interested in serving as a substitute science teacher during the day.
"I remember she said, 'You have to be there by 7 a.m.' and I was like, 'Whoa. OK, I'll try it,'" Green said, laughing. "So, I started serving at Butler High School, and it was a great experience. They asked me to take a long-term position that was available in science. And that's when I decided teaching was my calling."
Green, who graduated from A.R. Johnson Health Science and Engineering Magnet School in Richmond County, said health care and science have always been her passion, but she never thought she would become a teacher.
"My mom was a teacher, so, of course, I always said, 'I'm never going to be a teacher,'" Green said, chuckling. "She was a kindergarten, elementary school teacher, so I always had to help her get her classroom together. I would go over and see the kids and help her out and read to them and play games with them. So, honestly, I think teaching has always probably been a part of me. It has always been in my DNA."
Green said her path to becoming a teacher was greatly assisted by her adviser and mentor at Augusta University, the late Kristen Gilbert, EdD.
"I appreciated her wisdom, caring attitude and strict line for excellence," Gilbert said. "I had to adjust my brain from writing in MLA (Modern Language Association) format for science to APA (American Psychological Association) format. It was impossible. She pushed me beyond basic expectations, and I am grateful."
"Dr. Gilbert is gone but will never be forgotten by me," she added. "I hope she is looking down from heaven and I made her proud."
For the past eight years, Green has taught at Lucy Laney High School and is currently the chair of the science department.
"Lucy Laney has a very close-knit teaching environment," Green said. "It's all about the students. And our teachers have been that solid force that has been here together. We have great camaraderie. The teachers here help each other. We work together. And I can honestly say we've got several of the best teachers that I have ever worked with here. They challenged me to do better for my students, and they challenged me on a professional level every day."
Green, who is the first high school teacher who has been named Richmond County Teacher of the Year since 2012, said the key to her success in the classroom is building solid relationships with students.
"I want my students to understand exactly what they need to do not just for science, but for their future," she said. "High schoolers come in as ninth graders and they are starting to feel a little more independent, but as a teacher, you want to help give them the confidence they need and the ability to move forward."
"I enjoy being able to challenge them," she added. "We want them not to be just an academic student, but a well-rounded student."
Columbia County Teacher of the Year finalist: Brook Andrews
For more than 20 years, Brook Andrews has loved being an educator in Georgia. After graduating from the University of Georgia with her bachelor's degree in Middle Grades Education, she taught in Gwinnett County for a few years until she decided to move back home to Augusta.
Andrews, mother of four boys, spent three years teaching science and math at St. Mary on the Hill Catholic School, which is just minutes from the Summerville Campus of Augusta University.
While teaching at St. Mary, Andrews decided to seek a Master of Education and later earned her Education Specialist degree in Curriculum and Instruction at Augusta University.
"We are lucky to have Augusta University in this area, because I can't imagine being a teacher in another city who didn't have access to a university where you could literally drive and sit in a classroom and get a good education," Andrews said. "I can remember when I got my master's degree, I was teaching at St. Mary on the Hill Catholic School, which was right across the street from Augusta University. So, I could walk right over and go to class. It was convenient and really nice to be in that area all day long."
While at Augusta University, Andrews said she had a professor named Barry Thompson who was teaching science education classes.
"What he was teaching was so applicable to what I was literally doing across the street at St. Mary on the Hill Catholic School, so I was able to take what he gave me in class and use it the very next day," Andrews said. "That was very useful because it was my first time teaching science, and he was teaching me how to teach science in the classroom."
After she earned a Master of Education from Augusta University, Andrews returned to public education at Riverside Middle School in Columbia County, where she taught eighth grade science. She then accepted a job at Stallings Island Middle School when it opened approximately 16 years ago and currently teaches sixth grade earth science and eighth grade Georgia history.
Andrews said the supportive environment at Stallings Island Middle School has been a key to her success.
"Here at Stallings Island, the facility itself is beautiful. It's a nice, welcoming place to come to every day," Andrews said. "And our administration is wonderful and very supportive. They keep us organized, and they keep us moving in the right direction. And the teachers here are so dedicated and so professional. Everybody has the kids' best interests at heart."
"But the kids themselves are really what make the building," she added. "There is just a great group of kids here."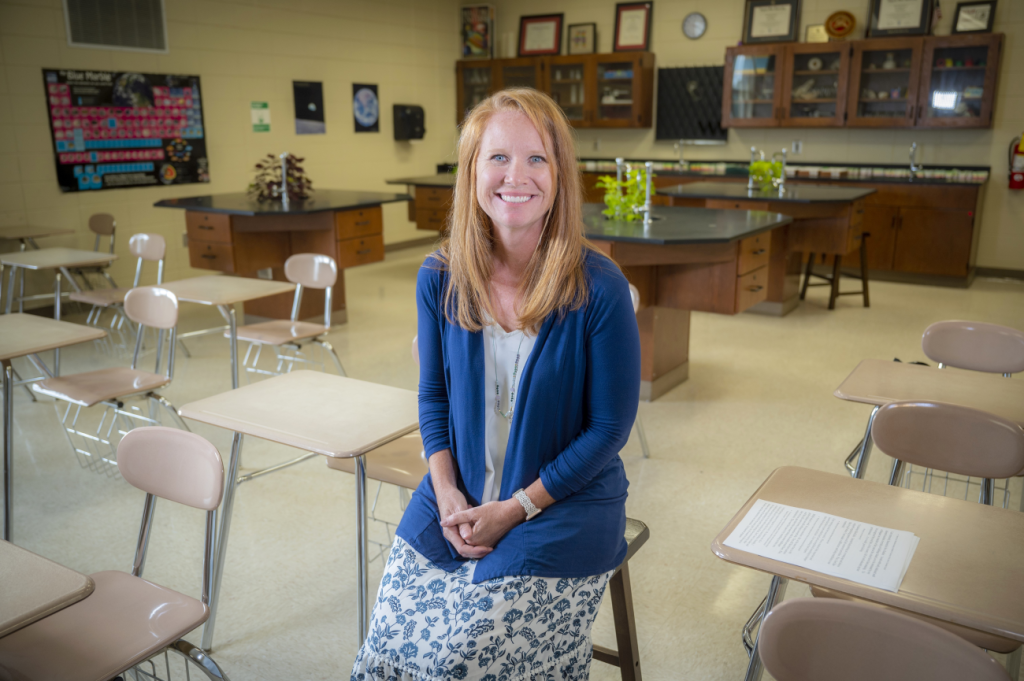 Andrews sponsors several after-school clubs at Stallings Island, including the running club which she says is a favorite among sixth graders who need to burn off extra energy after school.
"These kids love to be at school, so they stay for sometimes hours after school to do these activities," she said. "So, it's kind of neat that they like being here and that they want to stay when the school day ends."
Seeing students' excitement for learning is what keeps her motivated throughout the year, Andrews said.
"I really love when kids feel success," Andrews said. "Children know when they're feeling seen and when they feel valued. And I love when a kid works hard for something, and then they get it and they feel success. And then they are so much more motivated to do it again. So, I always enjoy creating opportunities for them to find success and just keep their momentum going in the right direction."
Andrews said it was an honor to be a finalist for Columbia County Teacher of the Year.
"This is a job that satisfies your soul," she said. "When you have a good day, there's nothing that would beat that feeling when you're entering the room, and they're having a good day, and they walk out content, pleased with what they've done. It just makes you feel good."
Columbia County Teacher of the Year finalist: Allison Dixon
As a third-grade teacher of English Language Arts and social studies at Greenbrier Elementary School, Allison Dixon has enjoyed bonding with children for more than 22 years of teaching.
"I really love building relationships with children and trying to make sure that they know that I really want them to be successful both inside and outside the classroom," Dixon said. "I often go and support them outside of the classroom whenever I can. Last night, I went to a softball game because two of my girls were competing against each other. I want these students to know that I'm there for them."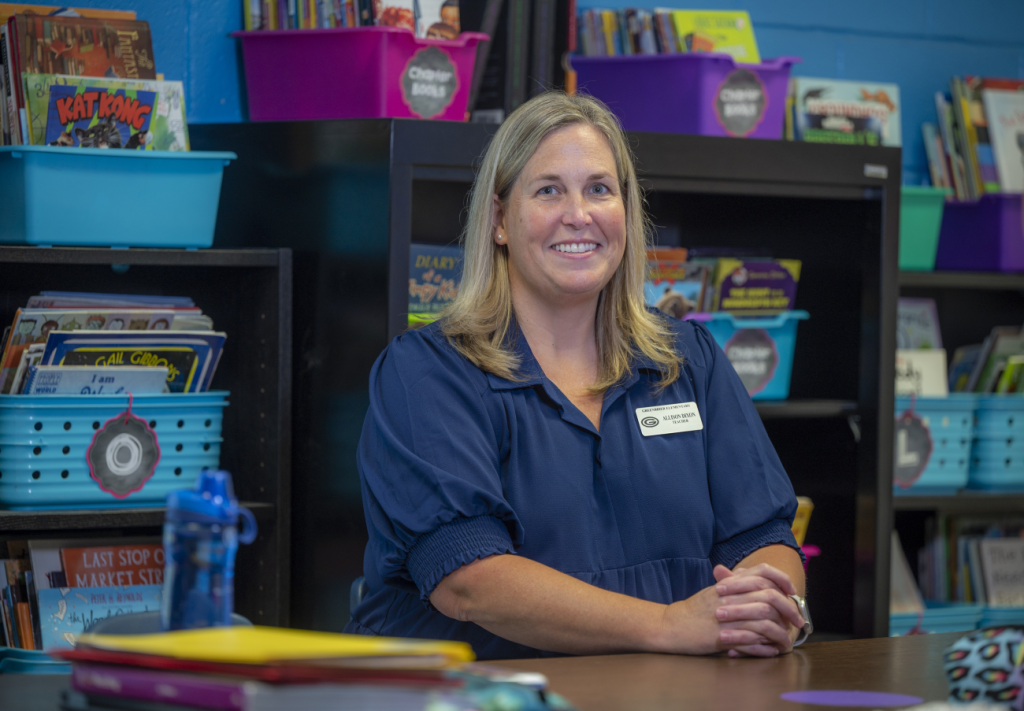 Dixon, who earned both her Bachelor of Science in Early Childhood Education and Education Specialist in Early Childhood Education from Augusta University, said she always knew she wanted to teach in an elementary school setting.
"I have basically known all my life I wanted to be a teacher," Dixon said, adding that her kindergarten teacher, Tophie Putman, at National Hills Elementary School was her inspiration. "She taught with such energy and enthusiasm. She really loved us all like we were her own children, so that's what got me started."
That passion for helping children continued to grow throughout her life, Dixon said.
"I've always had a heart for working with children," Dixon said. "I've been serving kids at Warren Baptist Church since back when I was in high school. Around the age of 16, I started in their preschool ministry. I served there for 11 years on Sunday mornings. And then I moved to our children's ministry, and I'm currently working with the second grade on Sunday mornings."
For the first 17 years of her career, Dixon taught second grade at Grovetown Elementary. Then she transferred to Greenbrier Elementary about five years ago to teach third grade.
Over the years, Dixon said she has seen a lot of her young students grow into successful adults.
"Here is a fun fact – I completed my student teaching at C.T. Walker Elementary in a kindergarten classroom. And in that kindergarten classroom was a little girl named Ameesha," Dixon said. "Well, Ameesha Butler is the current Columbia County Teacher of the Year. I taught her. So that's really fun and exciting."
Throughout her career, Dixon has served in many capacities including grade chair, yearbook coordinator, PTO vice president, co-chair of the Father-Daughter Dance, coordinator of the Kids Heart Challenge and chair of a school fundraiser. She has also taken on leadership roles throughout the community, including serving as a building coordinator for Augusta University for more than a decade.
Dixon said she thoroughly enjoys the teaching atmosphere at Greenbrier Elementary because of the dedicated faculty, staff and parents.
"I love the whole sense of community, the atmosphere, both here in the school and in the entire neighborhood," Dixon said. "It is very family-oriented, and I really enjoy that."
While Dixon said she was honored to be a finalist for the Columbia County Teacher of the Year, she admits she has mostly enjoyed watching her students get involved in the excitement.
"They were really excited about it," Dixon said, laughing. "It started with several superintendents and the administration coming in and surprising me in the classroom totally unexpectedly. And then a few weeks ago, we had the judges come in for an observation. So, the students had an audience watching them learn. And then, we had some more cameras from our district office to come back in the classroom, so they feel like they're a part of something important which makes me happy."