Joe Hotchkiss sit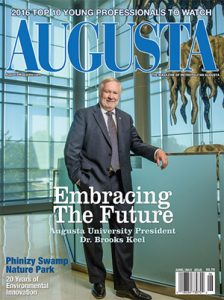 s down with Dr. Brooks A. Keel to chronicle his journey from a young boy living on Broad Street Extension to becoming the president of Augusta University in the June/July issue of Augusta Magazine.
President Keel shares his philosophy on being an "external president" by spending time with students. He tells readers, "If you're around young people and you get the chance to interact with young people … you see the promise that we have in terms of the future. It doesn't get any better than that. It really doesn't."
You'll also want to read Sherry Foster's column on the Augusta University following her recent visit on the Health Sciences Campus.
June/July issue