Telestroke system celebrates milestone in patient care
Over the last 13 years the REACH program, which was established by stroke specialists at the Medical College of Georgia, including Dr. David Hess, has provided rapid stroke care via tPA to more than 1,000 people across rural Georgia and into South Carolina all through a web cam.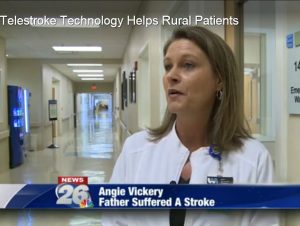 Wills Memorial Hospital's chief nursing officer Angie Vickery explains how the telestroke program that connects Wills to the medical center at Augusta University saved her father's life.
"Patients that are living in these rural areas that don't have community hospitals it delays the treatment," Vickery told a reporter with TV stations WRDW and WAGT.
That means if treatment doesn't start within the first hours the chances of recovery go down.
"It can really not only save your life, but it can also make sure the quality of life that you have is better," she said.
Watch the full story on this life-saving hub and spoke technology.