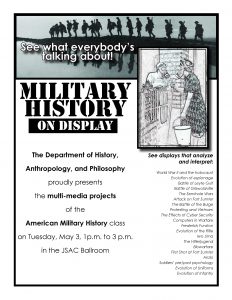 This semester, students enrolled in the history department's American Military History class had the opportunity to participate in undergraduate research. Next week, those same students will present their research to the public.
In January, students chose a topic to focus on throughout the semester. They were able to choose anything that relates to American military history. Dr. Hubert van Tuyll, history professor, helped students focus on a single idea.
"One of the most important parts of undergraduate research is narrowing down a topic in order to make it manageable," he said.
This year, topics included the evolution of espionage, the effects of cyber security, computers in warfare, evolution of uniforms, infantry, protesting and the Vietnam War.
For five months, students analyzed and interpreted their chosen topic. The research culminates in a multi-media presentation that may include tri-fold poster boards, PowerPoint presentations, replicas, sand tables and dioramas. Van Tuyll encourages his students to be original with their presentations.
"One year a student cooked food similar to what union soldiers would have eaten," he said.
Van Tuyll recognizes that not all of his students are history majors, and urges students to connect their research to their major. He's had business students examine management issues in the military and a chemistry major who decided to research the history of poison gas development.
The American Military History class will present their research on Tuesday, May 3 from 1 – 3 p.m. in the JSAC Ballroom. This is a drop-in event and presentations are open to the public. For more information, contact Dr. Hubert van Tuyll at hvantuyl@augusta.edu.