In April, the Hull College of Business Augusta Leading Economic Index (LEI) returned to positive growth after last month's blip. The LEI increased 0.8% from March. The index has increased 6.1% from April 2014.
I have been calculating the Augusta LEI and writing this report for five years. In that time Augusta has seen some tremendous growth (I believe they say this is correlation not causation!). Total employment has grown by 8 percent, with three major sectors contributing to that growth (leisure and hospitality, transportation and utilities, and health and education services). Retail and business and professional services, both large employers, have also seen decent growth.
If your industry does not appear on this list, it has underperformed the local average. The housing market has also continued to struggle: the Federal Housing Finance Agency House Price Index for Augusta has fallen from 166.52 in the first quarter of 2010 to 155.22 in the first quarter of this year.
| | | | |
| --- | --- | --- | --- |
| Category | April 2010 | April 2015 | Growth |
| LEI (NSA) | 109.8 | 137.0 | 24.8% |
| | | | |
| Employment | 214,700 | 231,900 | 8.0% |
| Leisure and Hospitality employment | 21,400 | 25,700 | 20.0% |
| Transportation and Utilities employment | 6,200 | 7,300 | 17.7% |
| Health and Education Services employment | 29,200 | 32,600 | 11.6% |
| Retail employment | 24,700 | 26,700 | 8.0% |
| Business and Professional Services employment | 30,700 | 33,000 | 7.5% |
| | | | |
| Unemployment rate (NSA) | 9.0% | 6.1% | -32.2% |
| Average Weekly earnings | $694.2 | $853.10 | 22.9% |
All data: Federal Reserve Bank of St. Louis and seasonally adjusted except where noted (NSA)
About the Index
The Augusta Leading Economic Index (Augusta LEI) is a monthly composite index that combines several national, regional, and local indicators into a single variable. Leading indexes combine variables that change before business cycle variables such as employment changes. Leading indexes may, therefore, indicate changes that could occur in the economy. Leading indexes are not forecasts or predictions about the future, but may signify future economic activity.
The Augusta LEI may provide local decision makers with timely information about future business cycle patterns in the Augusta area. The Augusta LEI uses economic indicators for the Augusta Metropolitan Statistical Area (MSA), which includes seven counties (i.e., Burke, Columbia, Lincoln, McDuffie, and Richmond counties in Georgia, and Aiken and Edgefield counties in South Carolina).
The index also includes regional and national indicators to reflect that national trends affect the local economy. The index is constructed in the same way that the Conference Board constructs the Leading Economic Index for the United States.
About Simon Medcalfe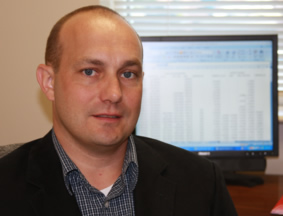 Dr. Simon Medcalfe is an Associate Professor of Finance and Director of the MBA program in the James M. Hull College of Business at Georgia Regents University. He holds a Ph.D. in business and
economic
s from Lehigh University in Bethlehem, PA and a Master of Science degree in finance from Leicester University in England. He has published academic articles in the areas of sports and health
economic
s and
economic
education as well as contributing to labor
economic
s and entrepreneurial finance textbooks.