The Augusta University Police Department is supporting Breast Cancer Awareness Month.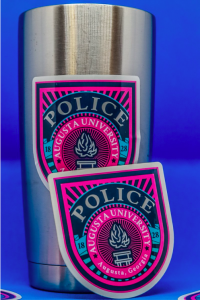 AU Police Department has joined the #PinkPatchProject, a fundraiser to sell police patch stickers in pink.
Each sticker is $5 and all profits will benefit the Georgia Cancer Center. Patch stickers can be purchased from any officer.
"This is our first year doing it," said Sgt. Curtis Dyal, special projects coordinator. "I was super excited about this because, obviously working here, we have some people that really work hard to not only research cancer, try to find a cure, but also treat patients. We take care of our community. So it felt like an awesome way to not only engage our community, but to give back to our community. So that's why we were super excited about the Pink Patch Project. I like the free-form part where we know that the money is coming back here to our people to help them do their job better."
Learn more about Augusta University Police Department.