If you returned to the Health Sciences Campus for summer semester, chances are you noticed the Atrium Cafe in the Student Wellness Center is temporarily closed, and so is the adjacent Starbucks counter.
Renovations are being made to allow for a more intimate dining experience by enclosing the cafeteria area and creating just one entrance.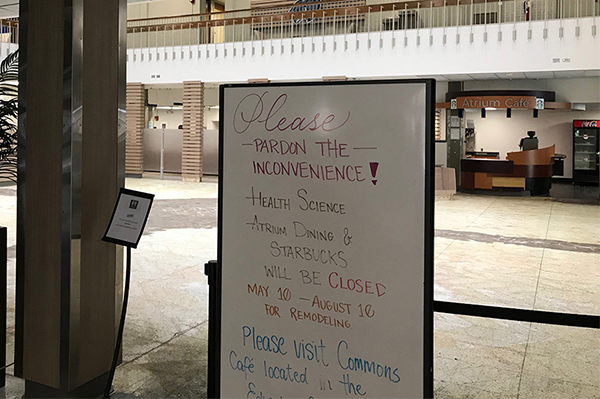 When the Atrium Cafe reopens for fall semester, students will have more choices for breakfast and lunch, including a salad bar. There will also be two entree choices for dinner rather than just one as previously offered.
More details will be shared in Jagwire when the Atrium reopens in August. In the meantime, meals, snacks and beverages may be purchased in the Commons Café of the J. Harold Harrison, M.D. Education Commons and at the Jag Stop and Terrace Dining at AU Medical Center.
Please pardon our progress as we continue to grow and improve services for students, faculty and staff at Augusta University.