AUGUSTA, Ga. (April 11, 2016) – Public art displays, a candlelight campus march and a community 5k run/walk are planned for Sexual Assault Awareness Month at Augusta University.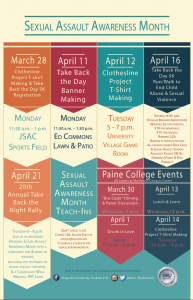 In partnership with Paine College and Rape Crisis and Sexual Assault Services, Augusta University hosts the annual events in April of each year as part of a national movement to end sexual violence.
The events begin today and continue throughout the month. They include:
Take Back the Day Banner Making
11:30 a.m.-1:30 p.m. Monday, April 11
Harold Harrison, M.D. Education Commons Lawn
Students will create a banner in support of survivors of sexual violence that will be displayed on campus and during other Sexual Assault Awareness Month events.
Clothesline Project T-Shirt Making
Tuesday, April 12th from 5-7pm
University Village Game Room
Students will create t-shirts to bring voice to the experience of survivors of sexual violence that will be displayed on the Summerville campus clothesline project during the month of April.
Take Back the Day 5K Run/Walk to End Child Abuse & Sexual Violence
8:30 a.m. Saturday, April 16
Douglas Barnard, Jr. Amphitheatre
The cost varies from $5-25, with all proceeds benefiting Rape Crisis & Sexual Assault Services, an Augusta non-profit that provides services to victims of sexual assault. Register to walk or run the dog-friendly race at active.com.
20th Annual Take Back the Night Rally
6-8 p.m. Thursday, April 21
Maxwell Performing Arts Theatre Lawn
The rally includes a community information fair, testimony from sexual assault survivors, and a candlelight walk.
"We have a responsibility to raise awareness and educate our communities in order to prevent sexual violence and harrassment," said Dr. Allison Foley, Director of the Center for Public Service at Augusta University. "These events are to let survivors know they're not alone and to communicate as a community that we will not stand for violence."
Foley is scheduling "teach-ins" in classrooms across campus this month to educate students on sexual misconduct.
"These events are designed to educate students on the meaning of consent and promote awareness of resources on campus and in the community," including the university's Public Safety Division, Counseling Center and Student Health, Foley said. "It's important we all work to make students more knowledgeable about sexual misconduct and harassment and what they can do if they or a friend experience it."