Jaguars roared in McDuffie County when the Board of Education announced its Teachers of the Year. Of the seven schools in the county, five of them chose Georgia Regents University College of Education graduates as their honorees.
GRU alumni who are Teacher of the Year finalists are: Mandy Brantley (M.A.T., 2010), Thomson High School; Ashlee Crawford (B.S.Ed., 2008), Thomson-McDuffie Middle School; Kelli Poston (M.Ed., 2009), Maxwell Elementary School; Seymone Reese (B.S.Ed., 2002; Ed.S., 2009), Thomson Elementary School; Johnna Simpson (B.A., 1993), Norris Elementary School; Jarmel Calvin for McDuffie Achievement Center and Ashlei Perkins for Dearing Elementary School.
"We congratulate all seven of the Teacher of the Year honorees but are thrilled to have these five excellent educators as alumni of the GRU College of Education," said Dr. Zach Kelehear, dean of the College of Education. "As they show, GRU graduates are tireless and innovative and inspire students to be stronger to compete in a global economy."
Of the seven finalists, one will be chosen as the McDuffie County Teacher of the Year. The county's Teacher of the Year will represent McDuffie County in November in Atlanta at the state level. In May, the Georgia Department of Education will name the Georgia Teacher of the Year and the Georgia Media Specialist of the Year.
The Lincoln County Board of Education also announced its Teachers of the Year, and first-grade teacher Megan Goolsby was chosen Teacher of the Year for Lincoln County Elementary School.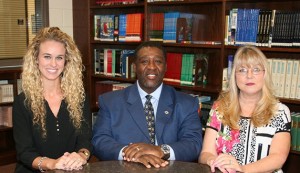 Goolsby is a two-time graduate of Georgia Regents University, soon to be Augusta University. She holds a B.S.Ed. in early childhood education (2011) and an M.Ed. in curriculum and instruction (2014), with a gifted teaching endorsement.
Prior to her work at LCES, Goolsby taught pre-K at South Columbia Elementary School in Columbia County.