Ron Sanders Jr. believes exposure in any field is important, which is one reason he cherishes any opportunity to come back to Augusta University and share encouraging words with future physician assistant students in the College of Allied Health Sciences.
Sanders graduated from Augusta State University and received a Master of Science of Physician Assistant from the Medical College of Georgia at Augusta University. He is passionate about medical education, process improvement and mentorship, which was one of the reasons he visited Aug. 17 to talk to the PA class of 2025.
He shared his story of becoming a PA, thanks to the help of mentors and family encouraging him to find experiences that allowed him to have hands-on training.
"Growing up, all I heard was you're either a doctor or a lawyer, and that was it. My aunt and those who eventually became my mentors exposed me to this field called physician assistant that nobody had really heard of or confused it for a medical assistant," said Sanders, who is a certified emergency medicine physician assistant. He now lives in Atlanta and is the co-founder of Viral Solutions, which was created to help find a way to resolve the COVID-19 testing crisis in Georgia.
"So that exposure and then them taking me under their wing and allowing me to train with them and just absorb all that knowledge was vital for me."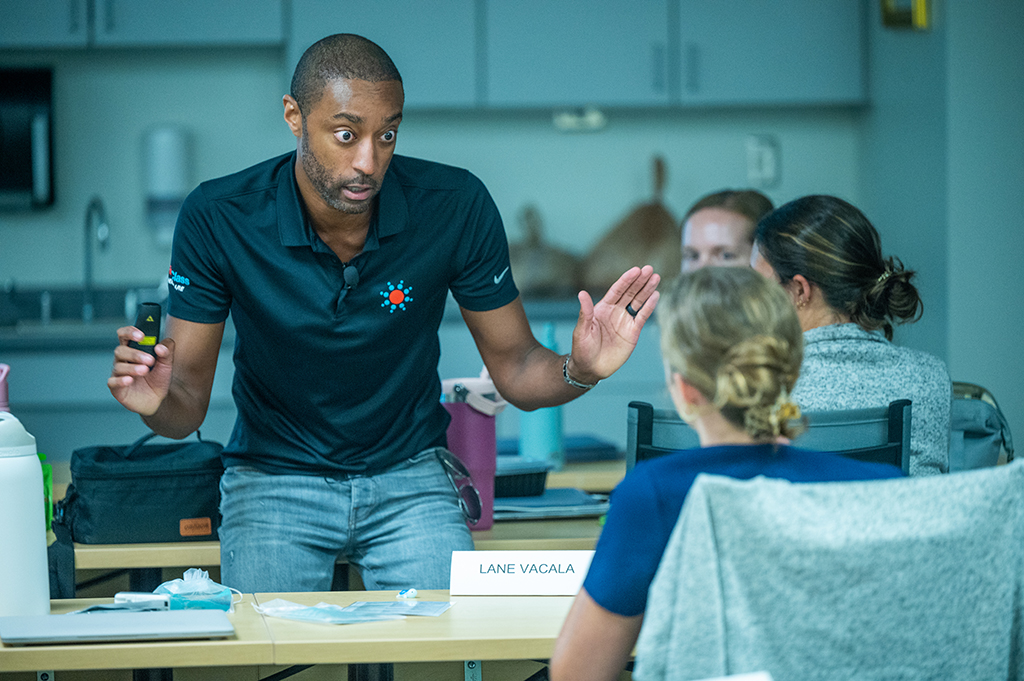 After Sanders graduated, he went to work in the emergency department at DeKalb Medical (now Emory Decatur) in Atlanta. He worked there for 12 years before co-founding Viral Solutions with Ben Lefkove, MD, who also graduated from MCG with his Doctor of Medicine. Viral Solutions is now the parent company for First Class Healthcare and the newly opened DriveThru Urgent Care, both of which are designed and dedicated to providing faster health care to patients with time-sensitive medical needs.
Sanders also noted that the company is working in correctional spaces at the Gwinnett and Cherokee county jails.
One aspect he misses from his previous job is the recruiting, hiring and training of PA students. He said he loved precepting and would take two students a month for a year. He estimates he has worked with more than 250 students during his tenure.
During his talk, Sanders mentioned the BeST Scholarship, which he created in 2022 to support underrepresented students in the didactic phase of their PA education. The scholarship is named in honor of his three mentors: Eugene Beverly, PA, who was his preceptor for his family medicine rotation; Judith Stallings, EDD, MHE, PA-C, who was his professor and adviser when he entered the program; and Ben Taylor, PA, who allowed Sanders to shadow him and gave him the opportunity to amass more than 300 hours.
Last year, Sanders awarded $10,000 to one student, and this year he was able to increase it to $20,000, with the hope of being able to increase it in the years to come.
"When I left the ER to start my company —I don't necessarily miss the ER but I miss having students. That is the biggest void for me, even with the successes I've had in my business," he said. "It's always been a passion of mine, and it always will be a passion. I expect to add more money onto this scholarship year by year, hopefully, as my business expands."
College of Allied Health Sciences Dean Lester Pretlow, PhD, is proud to have a prominent alum return to talk with and encourage the PA students and believes Sanders has a bright future ahead of him.
"Ron Sanders is a star; he spent his youth learning the game of chess. With chess, Ron became a strategist extraordinaire and now uses his skills to deliver streamlined health care to the residents of Atlanta," Pretlow said. "The PA department and I could not be prouder of his accomplishments. Ron is going places, and it is going to be fun to see where he ends up."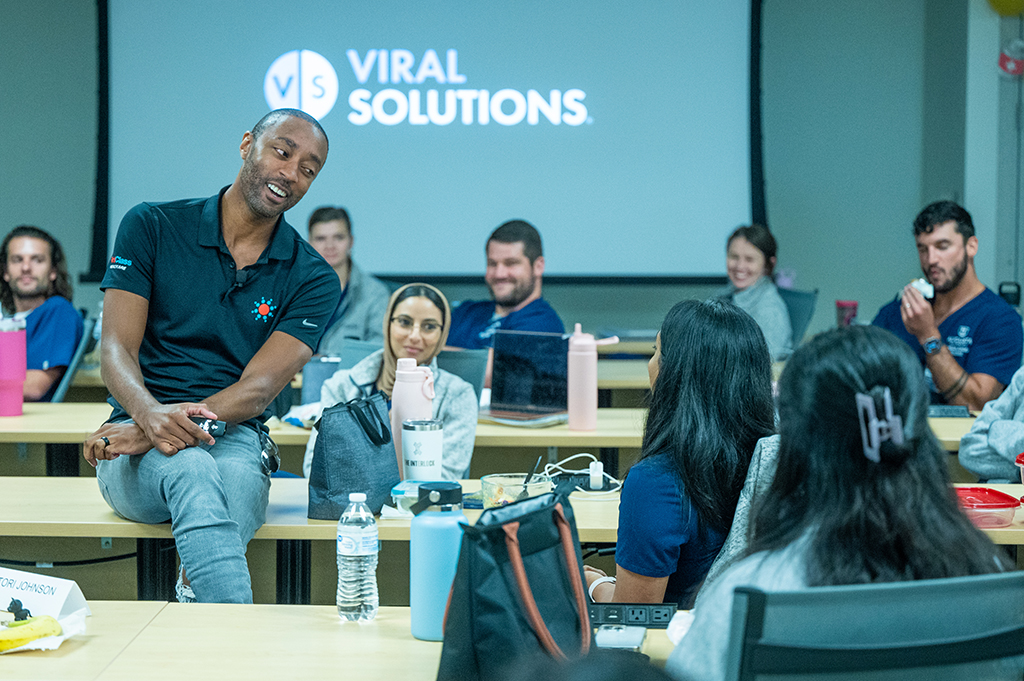 Professor and chair for the Physician Assistant Department Lisa Daitch, MPAS, PA-C, said many of their alumni go on to have amazing careers in health care. She is excited Sanders has achieved such a level of success and grateful he's taking it upon himself to give back to an upcoming generation of PAs from his alma mater.
"I have been involved with this program since 2006 and can count on one hand how many of our alumni have made financial awards for the next generation or set up an endowed fund," she said. "I am extremely proud of all that Ron has accomplished since graduation and his desire to reach forward toward our future graduates with financial help and mentorship on their journey."