In Stanley Kubrick's 1968 classic, 2001: A Space Odyssey, a race of hyper-intelligent aliens scatters supercomputer monoliths on a number of worlds throughout the known galaxy. The objects are gifts. Evolutionary "kickstarters," let's say, built to help young species find their evolutionary footing. In the film, first contact with one of these structures elevates humanity from a race of warring tribal primates into a spacefaring superpower in record time.
A similar object now looms in the Grover C. Maxwell Performing Arts Theatre's front lobby.
While the latter is a distinctly human construction — built by Larry Millard, professor emeritus in the Lamar Dodd School of Art at the University of Georgia, and Matthew Buzzell, professor of communication at Augusta University — the Maxwell Monolith is no less a gift. Like the structure it commemorates, it is a love letter from the past. A well wish to future generations. A reminder of wonders come and gone, and fates willing, those that might come later on.
Millard and Buzzell built the thing for the Cinema Series' Cinema '68 celebration — a curated showing of some of the best movies released in 1968. "The best movie released that year" by Buzzell's reckoning, 2001 graced silver screens for the first time just as Augusta was experiencing its own kind of evolutionary shift. The Maxwell Theatre opened its doors to the public in 1968. And like Kubrick's tale of human evolution, the story of the Maxwell Theatre's past is one best told out of sequence.
Maxwell Theatre
By the Numbers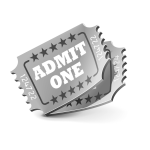 350K
Estimated attendance over 10 years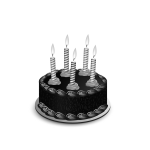 50
Years in operation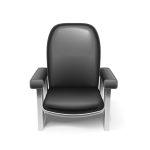 740
Theater seats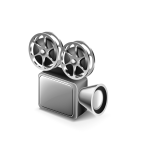 210
Events a year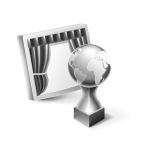 32 ft
Biggest screen on campus
Time
Staring into a can of still, dark liquid, Millard struggles to hide his disappointment.
It's Thursday, Nov. 8. In a little over a week, the sculpture he and Buzzell have spent weeks perfecting will make its public debut in the Maxwell Theatre's front lobby. A deluge of curious hands and flashing smartphone cameras will find it there in the coming days, dulling the sculpture's semi-reflective surface to a wan and glassy sheen. For the moment, though, the thing lays bare in the Maxwell Theater's shop, a blank wooden canvas suspended three feet above a cold cement floor.
"I don't like that color." Staring down into a paint can brimming with what, to the untrained eye, seems like any other shade of black, Millard laments quietly to himself before getting to work. "I was hoping for more of a blue black."
Millard is an artist with a workman's sense. He doesn't harbor illusions about the tools of his trade. Having once been offered a regional sales managers position for a chemical company, he understands paint, like any other chemical concoction, can be plied in different ways. Few of them effective. Using a simple roller and a precise series of movements, he smothers the monolith's sleek white outer shell with the color of void before settling in for a long wait.
That's the key to a good paint job.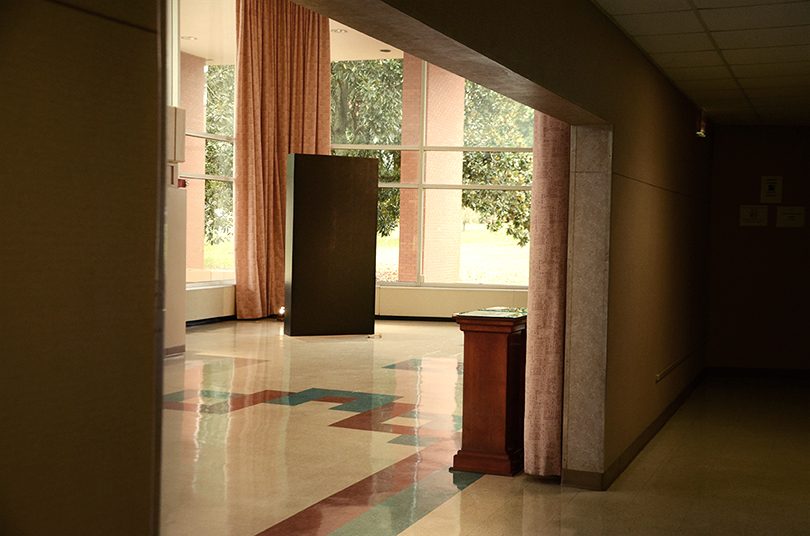 "A lot of people, when they paint houses, they want to hurry and use a thick coat because they think it'll go faster," Millard says. "That's because they don't understand paint at the chemical level."
Paint, at its core, is a liquid with flakes of pigment in it. There are various paint formulas and components, of course. Binders. Solvents. Fillers. Things which novices overlook and about which masters obsess. Most paint consists of a liquid with flakes of pigment in it. When applied to a surface, those flakes bond together to create the uniform look of a paint job well done. The evaporation of the liquid medium is what sticks them to the surface. Thicker coats result in a larger fluid buildup, leading to a longer drying time. And a greater chance that something will go wrong.
There's a lesson there. Whether the project is painting an alien supercomputer or telling a simple story, Millard says, if you want a thing done right, you shouldn't be afraid to take your time on it.
Dreams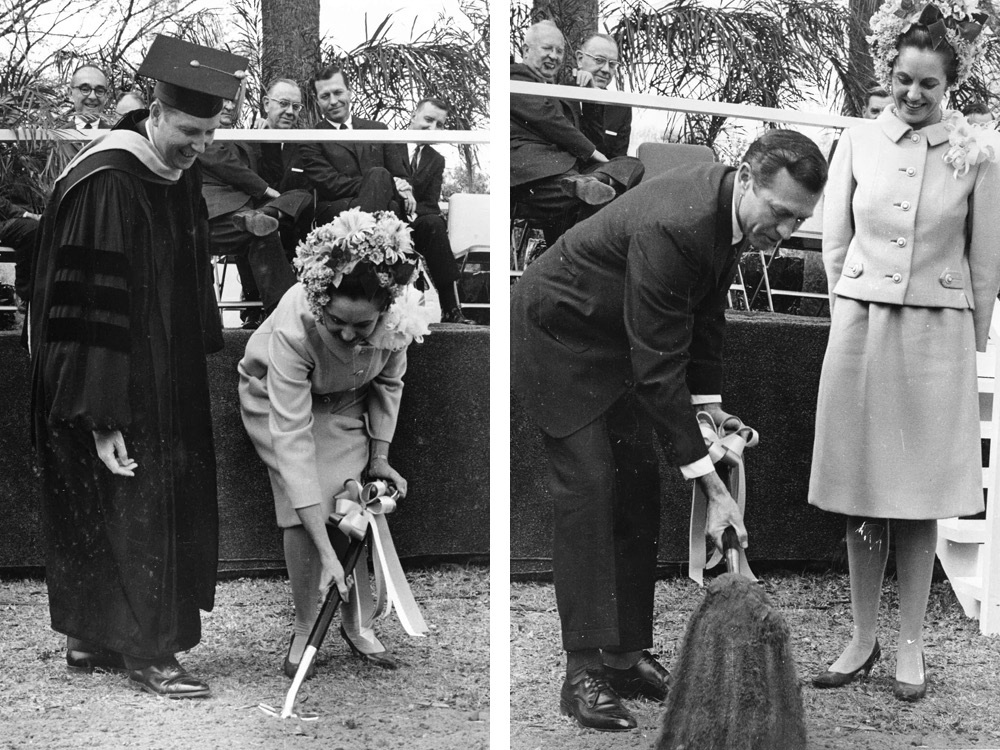 Prior to the Maxwell Theatre's construction, there was no home for the arts at Augusta University. Student musical performances took place in local churches. Artwork was displayed in the college library. Plays, the few staged on campus, played out in the Chateau, the former Augusta Arsenal's horse stable. In 1959, Gerald "Gerry" Robins, president of then Augusta College, wrote to the University System of Georgia's Board of Regents to request funding for an auditorium to house the arts.
Funding would not come in 1959, however. Nor would it come the next year, or the year after. Despite this delay, Robins, a former B-17 combat navigator, stayed the course. Augusta, he believed, deserved a center for the fine arts. So long as there was breath in his lungs, he would never stop fighting for one.
"For four years, our assemblies have been held out under the trees," he said during a public address in 1961. "For four years, we've had to pray it doesn't rain, and," he added cheekily, "it gets pretty cold in the winter."
Despite his determination, Robins and Augusta would wait another four years for word.
Hope finally arrived in the form of another B-17 alumnus. In 1963, Augusta sent native son Carl Sanders, a former bomber pilot, to the governor's mansion. With his backing and the full support of the Board of Regents, Augusta College became a four-year-institution and secured funding in 1965 — $1 million (roughly $8 million in 2018) — for what would later come to be known as the Grover C. Maxwell Performing Arts Theatre.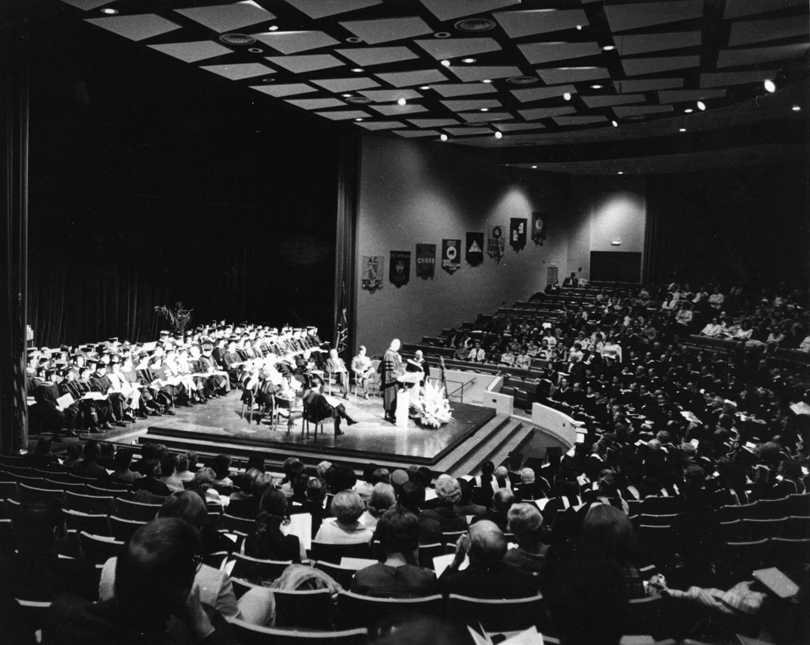 Coincidentally, the year Carl Sanders went to Atlanta was the same year renowned musician Harry Jacobs joined the university as chair of the burgeoning Fine Arts Department. His first task, per Robins' request: Begin work on the design for a new auditorium.
The timing could not have been better.
"This facility will broaden the scope of education and enrich the cultural life of this community."
Jacobs took the directive to heart. On March 30, 1966, Sanders and his wife, Betty Foy Sanders, visited Augusta College to break ground on a new performing arts theatre and accompanying fine arts center. Jacobs, alongside his faculty — his wife, Vola, pianist Artemesia Theavous, organist and choir director Emily Remington, artists Freeman Schoolcraft and Keith Cowling, and theatre professor Walter Guthrie —spent much of 1966 and 1967 planning with architects to bring Robins' dream to life.
That dream would be realized on the evening of Oct. 27, 1968.
Surrounded by an exhibition of his wife's work, Sanders stood before a packed house of community members, students and beaming faculty — including an ecstatic Robins and Jacobs — to deliver the promise that would define the Maxwell Theatre's mission for the next half century.
"This facility will broaden the scope of education," he said, "and enrich the cultural life of this community."
Characters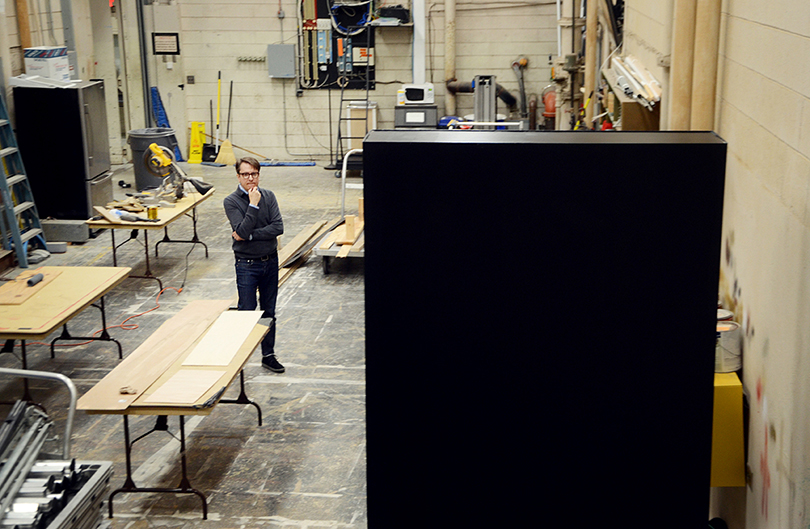 The Maxwell Theatre has seen a great many marvels in the last half century. A great many characters, too. Its lobby has witnessed the comings and goings of chancellors and governors. Its stage, the presence of Nobel Prize winners, lauded Civil Rights activists and at least one Rock and Roll Hall of Famer. Civil Rights legend Rep. John Lewis (R-Atlanta). Dith Pran, photojournalist and subject of the The Killing Fields, an Academy Award-winning film about the Cambodian genocide. Philippe Petit, the French daredevil who famously walked a high wire between the World Trade Center's Twin Towers. On and on goes the list of high-profile personalities to visit the theater over the years.
But those temporary visits, impressive as they are, are just that: temporary.
The Maxwell Theatre's true legacy is a construction of decades, a thing built brick-by-brick by the artists, educators and students at the heart of Augusta's creative culture. Educators and students like Millard and Buzzell.
"He's been one of my favorite teachers," Millard, a lifelong educator, says of his colleague.
Wielding a belt sander, he stands between the finger-smooth boards of the monolith's frame in the same chateau that once housed the university's plays. The monolith's debut is still weeks away at this point. Millard has not yet had the chance to lament the various shades of black unchosen or to wax poetic about the chemical properties of paint. But he has had time to consider his partner in crime.
So has Buzzell.
"Larry is unique in that he's been someone who has been both a student and a mentor to me," he says. "This is the most fun I've had working on a project since building a treehouse with my dad."
The two aren't the first student-mentor duo to bond over an artistic endeavor at the Maxwell.
In 1968, as the theater was opening its doors, artist Nathan Bindler joined the faculty of the Department of Fine Arts. An accomplished painter and sculptor, and principal violist in the Augusta Symphony Orchestra for more than a decade, he hoped to mark his retirement in 1980 with a tribute to Augusta College. He envisioned a marble sculpture. Something grand to commemorate the fine arts. But the funding never materialized.
In 1986, Harry Jacobs suggested one of Bindler's former students, Kathleen Girdler, construct the piece instead. Bindler, ready to pass the torch to a new generation, concurred.
Girdler was the natural choice. A graduate of the College of Nursing (then the Medical College of Georgia's School of Nursing), she had developed a lifelong passion for the arts. She designed a tribute to the three artistic cornerstones — art, theater and music — envisioned as three wistful figures cast in bronze. The structure would come to be known as the Cultural Triad. It stands today before the Maxwell Theatre. (Side note: Girdler, later Kathleen Girdler Engler after her marriage to surgeon Harold Engler, would go on to create two more pieces for the university: The Graduate, found near the Greenblatt Library, and The Nature of Healing, found in front of the Children's Hospital of Georgia.)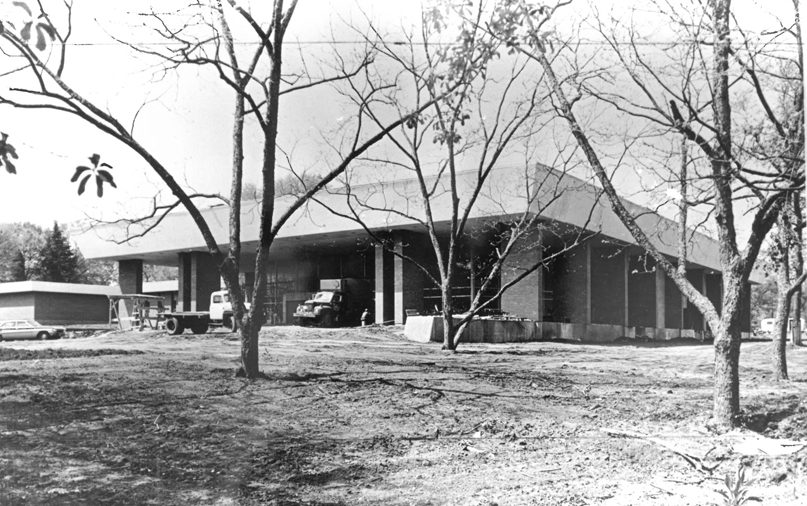 Of course, arguably no character holds more sway over the Maxwell Theatre's legacy than the man who gave it his name.
Born in 1887, Grover Cleveland Maxwell was the fourth of eight children born to Gilbert Maxwell and Mary Jeanette Grady in Dublin, North Carolina. Like his siblings, he grew up tending his family's farm. Entrepreneurship ran like a river through the Maxwell line. Thomas Ruffin (T.R.) Maxwell, Grover's first cousin once removed, moved to Augusta in 1888 to open what would later become a wildly successful chain of furniture stores. Gilbert Maxwell, Grover's father, operated a farm supply store and a saw mill, and worked in the lumber and turpentine business. He was also the local postmaster. It was no surprise, then, when the family's youngest ventured out to pursue their own business endeavors.
Grover's brother, Bertram Maxwell, moved to the Garden City in 1901. The first of Gilbert's children to leave the family farm, he took up work with T. R. in Augusta before partnering with local businessman Algernon Morgan to establish Morgan and Maxwell Furniture in 1904. Robert Jefferson and Grover would join their brother in 1905 and 1907, respectively. Having bought out their partner, the three worked to open and operate a number of stores throughout the Southeast under the "Maxwell Brother's Furniture" brand.
The Maxwell family was, and remains, one of Augusta's most civic-minded. Bertram donated land for a YMCA camp in Augusta. Robert Jefferson also had an interest in the Augusta YMCA, serving on its advisory board and as its president at one point. His home, known today as the Maxwell Alumni House, was given to Augusta College in 1975 as a bequest of his estate. Grover himself was one of the founders of Junior Achievement of Georgia, a state branch of Junior Achievement, the world's largest youth development organization with a focus on financial literary and entrepreneurship. He also served on the President's Advisory Council of the Medical College of Georgia and as chair of the Augusta College Foundation, contributing a significant sum to the college's endowment fund.
"My God, it's full of stars."
In his honor, Grover's sons, Grover Jr., George and William donated $150,000 to establish a professorship in the James M. Hull College of Business's Business Administration Department. When Maxwell died in 1983, after a long and storied life of achievement, his children sought a fitting way to memorialize their larger-than-life father. Working together with Augusta College officials, the family saw the former Performing Arts Theatre renamed the "Grover C. Maxwell Performing Arts Theatre."
Maxwell's wife, Corrie Mears Maxwell, unveiled the commemorative plaque on March 7, 1984.
The rest, as they say, is history.
Tomorrow

A multi-million-dollar renovation of the Fine Arts Center, built alongside the Maxwell, is planned for the winter. The move, like so many of Augusta University's moves in the past five years, signals a coming shift. A new direction in continuous march toward progress. One day, perhaps, that new direction will be outdated. New paint, as Millard can attest, will one day fade, flake and peel. New floors, new walls, eventually warp and twist. New faculty, staff and students, too, come and go, borne away to new places by new opportunities.
Like the long-quiet echoes of speeches and plays gone by, one day, even the Maxwell Monolith will slip into the past. It, like the memories of the men who made it, will live on only in the perspectives it changes, in the ideas and conversations it inspires. When it does eventually fade, however, the structure it commemorates, the structure that houses it, will still be standing.
The theater's past, like its bright and hopeful future, call to mind the last words spoken by Commander David Bowman in Clarke's original rendition of 2001.
"My God, it's full of stars."