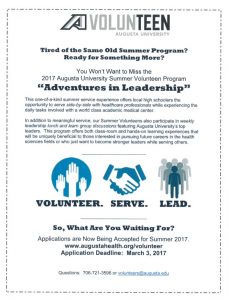 Applications for Augusta University's 2017 Volunteen "Adventures in Leadership" program are now being accepted.
This unique summer service program offers local high school students an opportunity to observe and work with health care professionals. By exposing them to the daily tasks and responsibilities of a world-class academic medical center, the summer program is an excellent way for students to get some "hands-on" experience.
Summer Volunteens will also participate in weekly leadership lunches. During these sessions, some of Augusta University's top leaders will engage with students in discussions about health care and other relevant subjects.
Each part of the program is designed to provide some beneficial experience to students interested in pursuing a career in the health sciences field.
Applications are now being accepted for the summer of 2017. The deadline to apply is Mar. 3.
For more information, contact Vanessa White at vawhite@augusta.edu or 706-721-3596.