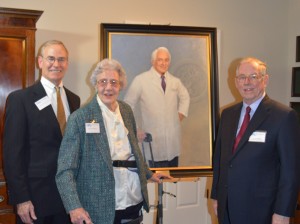 Dr. James Becton,  clinical professor of orthopedic surgery at the Medical College of Georgia, poses with artist Tom Neilsen and Mrs. Hester Bliven for the unveiling of a portrait of the late Dr. Floyd E. Bliven, Jr. painted by Neilsen.
The portrait was presented to Bliven's friends and family at a gathering at the Augusta Country Club Wallace House on Thursday, Feb. 19.
"I feel one of the best ways to record the history of our MCG physicians is by keeping their memories alive with portraits," said Becton. "Dr. Bliven was a wonderful man and section chief whose work at the medical college will never be forgotten."
The painting was commissioned by Becton to honor the legacy of  Bliven who served as the first full-time section chief of orthopedic surgery at MCG from 1957 until 1979.