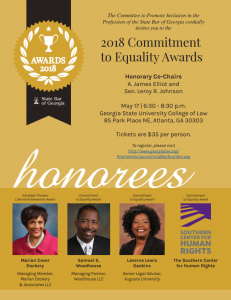 Laverne Gaskins, Senior Legal Advisor at Augusta University, is to be awarded a Commitment to Equality Award at the 2018 Commitment to Equality Awards on May 17.
The awards are given by the Committee to Promote Inclusion in the Profession of the State Bar of Georgia, with A. James Elliot and Sen. Leroy R. Johnson as honorary co-chairs.
Tickets are $35 per person and will take place May 17 from 6:20-8:30 p.m. at Georgia State University College of Law in Atlanta.
If you would like to register for the event, please visit the Committee to Promote Inclusion's page.
Congratulations, Laverne Gaskins!