The Office of Diversity and Inclusion at Augusta University has experienced tremendous growth over the past year.
Earlier this year, ODI welcomed Deputy Chief Diversity Officer Kiondra Broadway to help strategically build, align and coordinate diversity, equity and inclusion efforts across the university.
While Broadway is originally from Decatur, Georgia, she is joining Augusta University after working for the University of Maryland Global Campus in Japan as the assistant director of Overseas Diversity and Equity.
"Living in Japan was a whirlwind of experiences," Broadway said, smiling. "It was a great opportunity, both professionally and personally. One thing I always like to say about moving to Japan and doing the work that I did there is that it was a culture shock in more ways than one. Not just learning the Japanese culture, but also learning the university culture because that was the first time I worked for a university, in addition to working within the military culture as well."
When Broadway began at the University of Maryland Global Campus in 2017, she was the first full-time employee of the university's Overseas Diversity and Equity office in the Asia division.
"I had to start from scratch to build the infrastructure from the beginning," she said. "So, definitely having that opportunity to introduce the university to what this work is and what it means was a growing experience."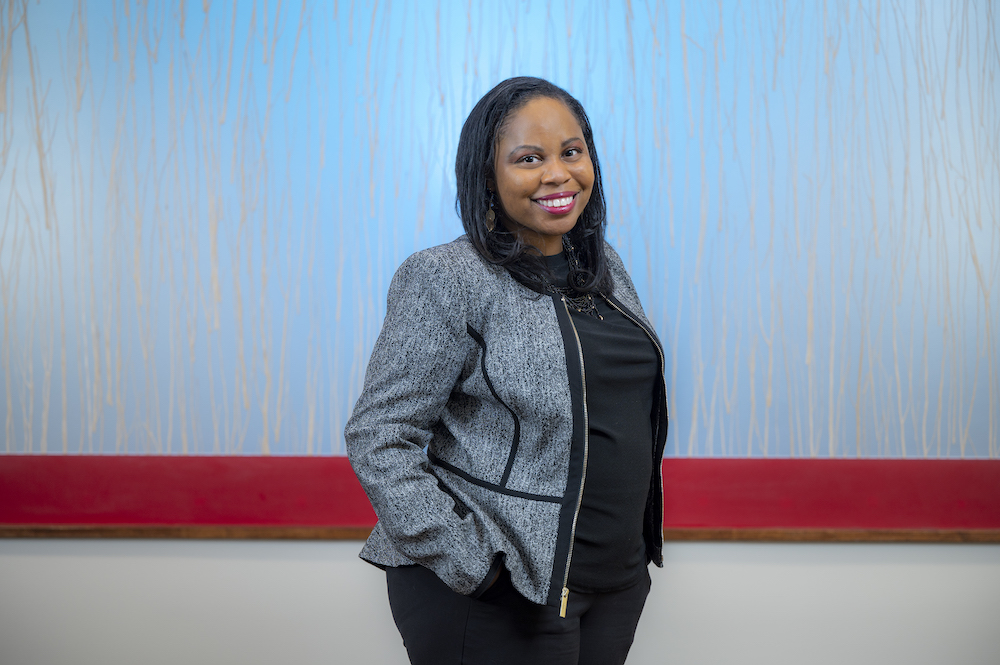 She worked with the university's leadership team to explain ways diversity and equity are integrated with employee and student engagement and community outreach. While Broadway said she will always cherish her time in Japan, she admitted that she began missing her home state of Georgia when the COVID-19 pandemic hit.
"It was cool being in Japan and having a place where my family could come and visit, but post-pandemic, of course, there were no more flights and no more visits," Broadway said. "So, I began thinking, 'It's about time to go back home.'"
Returning to Georgia
When she saw the job listing for the deputy chief diversity officer position at Augusta University, she jumped at the chance.
"I have worked in diversity, equity, inclusion for more than 10 years," she said. "It is a distinct passion of mine. And I say distinct because there have been several opportunities to journey to other areas in my profession with my background in professional program management and also in different roles in leadership. But working with underrepresented groups has afforded me to really love the work that I do with diversity, equity and inclusion."
Over the years, Broadway said she has worked in organizations that have helped underrepresented groups such as at-risk youth, teen survivors of human trafficking, veterans and the visually impaired.
"With my experiences with working with grassroots infrastructures and also working with the University of Maryland Global Campus and understanding the nuances of how to implement and grow this type of program, I am excited to be at Augusta University," she said. "The Office of Diversity and Inclusion is a relatively new office here at AU, but this group has already done fantastic work. I'm looking to support the collective plan and help to expand it forward."
Broadway said she wants faculty, staff and students to utilize and benefit from the training and programs offered by ODI.
"My biggest goal is to showcase to people who we are and what we do, and it tends to stick longer when people have visuals of our work and what we have already done," she said. "So, having a website where people can see the different trainings we offer and find out which ones would be good for their department or division would be really helpful. Also, having a presence on social media to be able to engage with the full community would help more people understand our mission."
ODI also wants to directly engage with the various diversity offices around campus to understand the interests of each group, she said.
"We are always looking for opportunities to advance even further," Broadway said. "And although we're a small group and just a couple of years in, we're very passionate about going as far as we possibly can and offering as much as we can. In fact, one of my favorite African proverbs is, 'If you want to go fast, go alone. If you want to go far, go together.'"
Expanded training opportunities
Another new addition to the ODI team is Zhanar Tuleutayeva. Originally from Kazakhstan, Tuleutayeva joined Augusta University in August 2021 as a diversity and inclusion training coordinator. She concentrates on developing, conducting and executing diversity, equity and inclusion trainings for the university.
"This includes online training and in-person workshops that we provide for AU faculty, staff and students," Tuleutayeva said. "I also manage our 'Healthy Perspectives' culturally responsive care training that we offer to our first-year health care professional students. In addition, we offer inclusive leadership, inclusive search, and diversity and inclusion in the workplace training. We also have a SafeZone training, which is part of the national initiative that is centered around creating inclusive and safe spaces for LGBTQI+ individuals."
Tuleutayeva received a bachelor's degree in economics from a leading research institution in Kazakhstan called Nazarbayev University. She earned her master's degree in women's and gender studies from Eastern Michigan University.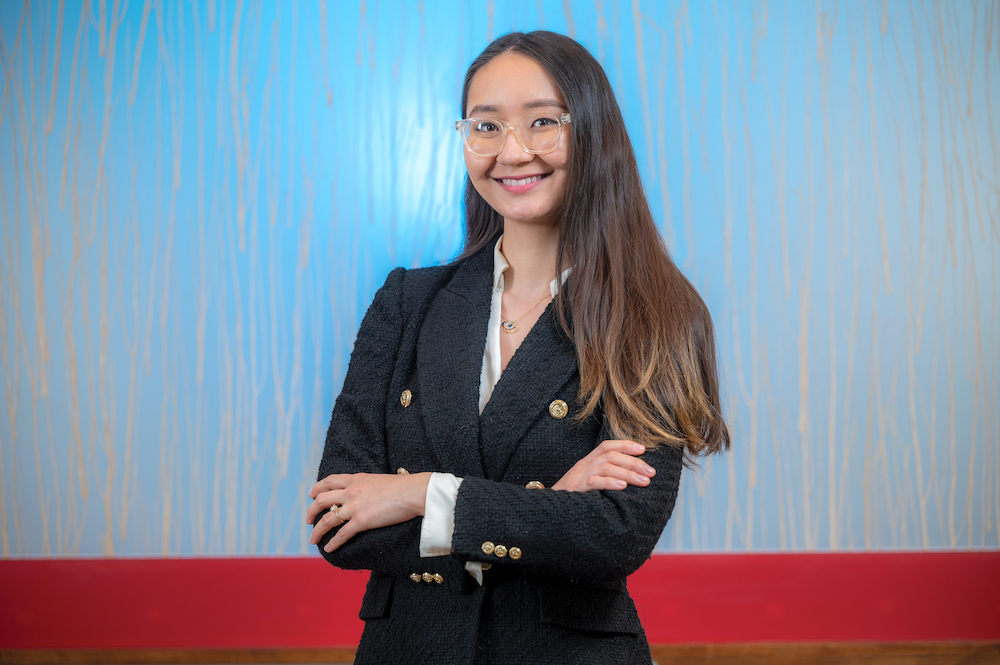 While working on her graduate degree, she was selected as a
Sociologists for Women in Society
delegate to the
United Nations Commission on the Status of Women
64th and 65th sessions. As a graduate assistant to the EMU's chair of the Title IX Research Committee, she worked on EMU's Campus Survey on Sexual Misconduct Culture report.
"My graduate capstone research was focused on campus sexual misconduct and evaluation of various prevention interventions universities employ," Tuleutayeva said. "That's why I was part of the research on EMU's campus climate survey on sexual misconduct culture. Also, in 2021, I presented my research at the National Women's Studies Association's annual conference on violence against women in Kazakhstan and Iceland."
She believes it's vitally important to provide students, staff and faculty a safe environment to learn and thrive.
"As a recent graduate, I believe a university is an important place to create inclusive and safe spaces for college students," she said. "After hearing about this position and visiting Augusta University, I just felt like this is the place I want to be."
Tuleutayeva, who speaks three languages, said she would want to build strong ties with the international community at Augusta University.
"Wherever I work, I try to connect with international students, staff and faculty," Tuleutayeva said, adding she previously worked at the Office of International Students and Scholars at EMU. "I think sometimes it seems like international students are invisible on certain college campuses. It is important to highlight that they are part of the culture, part of campus life and part of our community overall."
Moving forward
Dr. Tiffany Townsend, the chief diversity officer and an associate professor of psychological sciences at Augusta University, said she is pleased to have these two new additions to the ODI team.
"I've been in the office for some time by myself, so it's good to be more fully staffed," Townsend said. "We're moving forward to expand our training offerings now that Zhanar is on board, which I think is really important and it's going to be helpful for the university. And Kiondra is going to be key to making sure that we can implement some of our strategic initiatives as it relates to diversity, equity and inclusion.
"We're currently working with the Strategic Planning Core Team to ensure that diversity, equity and inclusion is infused throughout the university's 2022 strategic plan."
There are five focus areas in the 2022 strategic plan: learning, discovery, student success, stewardship and community. There are also three interwoven priorities: innovation; engagement; and diversity, equity and inclusion.
"Kiondra is going to be instrumental in partnering and providing guidance to the individual colleges and units to make sure that they're addressing those objectives in their unit plans," Townsend said. "It's all about making sure we have accountability. We want to send a message to our university and to the surrounding community that we're serious about diversity, equity and inclusion."