Nina Onuoha was an International Baccalaureate student in high school when she took her first art class.
While she admits she wasn't good in the beginning, she worked her way back to it during her undergraduate time at Emory University when she took a class there. The self-described "ultra-perfectionist" was trying to paint realistically, such as still-life portraits, but wasn't satisfied with the outcomes — so she started painting abstract.
"There are no rules; you can just do what you want, and I liked it," said Onuoha, a fourth-year student at the Medical College of Georgia. "It was really freeing. So now it's not about creating value or creating a 2D illusion on a piece of canvas or paper.
"But now it's about composition, balance, color and shape. It's about creating this experience for the viewer that allows them to look into themselves. Since abstract art is not necessarily something concrete, different people see different things and it's really interesting to see what people say when they see it."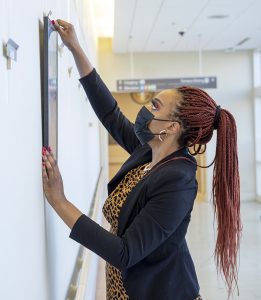 Onuoha's art will be displayed this month on Augusta University Medical Center's Healing Arts Gallery Wall as part of Volunteer Services & Community Engagement programming. The wall is located on the second floor of the AUMC and across from the Children's Hospital of Georgia.
Shayna Crawford, volunteer engagement coordinator, said her goal is to facilitate a welcoming environment for those who are willing to give their time to the medical center through service, whether it's with art, music or inpatient services.
"We strive to make a difference in the lives of the patients and families who come to AU Health for the highest level of medical care and treatment."
Crawford said the Healing Arts Program brings "beauty and inspiration to the healing process through works of art. This has, in the past, been displayed through visual art displays and musical performances. We also welcome and encourage community artists who would like to uplift others through their artistic talents to participate in this program."
The Volunteer Services team is excited that an MCG student like Onuoha has an opportunity to share her artwork with the patients and families the university community serves.
"We are happy to see our Augusta University health sciences students finding opportunities to inspire a more positive patient experience, both at the bedside and through this artistic medium," Crawford said. "Each time we inspire the people who walk past our Gallery Wall, we know our program is serving its true purpose: inspiring hearts through healing arts."
Onuoha, who is pursuing family medicine, said she started painting again in 2018 to manage her stress while studying for her boards. Her painting increased during the COVID-19 pandemic and quickly became a self-care activity for her.
Some of her professional artist friends will give her constructive criticism on her work, but they are more seeking a story behind the work she created. Onuoha said she likes to use paisley patterns in her work and uses African fabric as inspiration.
"My parents are Nigerian so I grew up seeing my mom and other people in my family wear Ankara dresses, which is a type of fabric worn in West Africa. They typically have repeating patterns and I like this idea of patterns repeating themselves, because it is something that I find very soothing," she said. "I named my print business Oriaku Designs because Oriaku, pronounced 'oh-ree-ah-koo,' is my middle name. I was named after my grandmother, so doing this is like paying homage to all my foremothers."
To learn more about Onuoha's art prints, visit her website or email her.
If you or someone you know is interested in the Healing Arts Program, fill out an interest form or contact Volunteer Services at 706-721-3596.