Tobacco users can do one thing today to reduce their chances of dying early — quit.
Through programs and events like the year-round Tobacco Cessation Program and the annual Great American Smokeout on Nov. 18, the Georgia Cancer Center is here to help tobacco users quit for life.
Tobacco use is the leading cause of preventable disease, disability and death in the United States. Cigarette smoking alone is responsible for about one in five deaths every year, and on average, people who smoke die 10 years earlier than people who do not. Tobacco use is not only associated with lung cancer, but also 15 other kinds of cancer, as well as heart disease, stroke, diabetes, and chronic obstructive pulmonary disease (COPD).
In Georgia, 11,700 people die from tobacco use each year. The Georgia Cancer Center at Augusta University is committed to reducing tobacco-related deaths in our community and across the state. The center's evidence-based tobacco cessation services are designed to help.
Tobacco Cessation Program
In 2013, the Georgia Cancer Center established the Tobacco Cessation Program. The program's evidence-based methods and team approach help people reduce their use and ultimately quit tobacco so they can live healthier, longer lives.
Martha S. Tingen, PhD, RN, FAAN, serves as director of the program and considers helping patients and community members successfully quit tobacco products an important component of comprehensive health care and community outreach and engagement.
"How can we perform a surgery and not offer help to the patient to quit tobacco when we know the outcome will be better?" Tingen asked. "How can we provide comprehensive cancer care when we know all cancer treatments are more effective if a patient quits smoking?"
Other concerns include comprehensive cardiovascular care or the management of diabetes or kidney disease — to Tingen, all these challenges go hand in hand with successfully stopping tobacco use.
The tobacco cessation team consists of a coordinator, two coaches, two nurse practitioners (NPs) and a collaborating physician. The coordinator, coaches and NPs are trained and earned certification as tobacco treatment specialists (TTS) by the MD Anderson Cancer Center, a nationally ranked and NCI-designated cancer center that offers the gold standard in tobacco treatment training.
Fonda Doby, BSW, TTS and cessation program coordinator, emphasizes the significance of the team approach to help participants quit tobacco: "Participants feel better if they know that the cessation team is here to support them in their journey."
Tailored care for long-term success
The team is committed to participants' success and provides each person with tailored, holistic care. Coaches meet with participants (in small groups) preferably online or by phone for 60-minute sessions once a week for eight weeks. During this time, they work together to explore motivations to quit and make a quit plan; participate in skills training to address urges to use tobacco; and provide emotional support so they can better cope with stress, nicotine dependence withdrawal and other issues during their cessation journey. Later weeks focus on behavioral changes to prevent a relapse. In each session, participants receive emotional support that is not limited to support from their coach.
"Something that is special about this program is it is done in a group format," said Gina Hopf, BA, TTS at the Georgia Cancer Center. "So people have the support of their coach as well as the added support from people in their group who are quitting tobacco, too."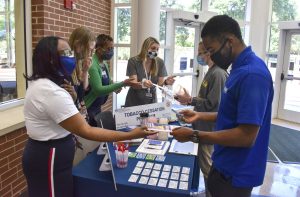 Appropriate pharmacotherapy is an important component of the treatment and is tailored to each individual by the NP. The coach assists by following up on any potential side effects of the medication, and if any occur, the NP is reached out to immediately.
The team understands that tobacco cessation is challenging for many reasons, and it may take participants several attempts to quit successfully. That is why the program is set up to provide support to participants long-term. Participants who feel confident leaving the program after eight weeks can count on follow-up calls with their coaches for up to a year after they complete the initial coaching sessions; however, participants needing additional support or who may relapse can re-enroll.
"We are committed to help each person on their path to improving their health by quitting tobacco use," said April Parham, BS, TTS and one of the coaches in the program. "For some people, it takes more than one attempt to quit for life. The most important part that we play, as coaches, is by giving individuals the tools they need to make their quit attempt with us their best one yet!"
Parham added, "I often remind my participants that we provide the sword and shield, but they are the ones that are doing battle."
How to sign up
Those who are ready to take the first step to quit tobacco can refer themselves to the Tobacco Cessation Program, or they can be referred by anyone in the health care field. People can also refer someone they know who smokes and a cessation team member will reach out.
Accessing the program's services is a simple, three-step process. First, call 706-721-0456, email stoptobacco@augusta.edu or fax 706-721-5416 to reach a cessation team member and schedule an appointment. Second, visit the cessation clinic for a brief assessment, health exam and medication prescription. Third, join your team in an eight-week cessation journey online or by phone.
During the COVID-19 pandemic, sessions are being held virtually, making them convenient and safe to join from the comfort of your home or office. When safe to meet in person, groups will be offered once again.
The Georgia Cancer Center promotes the Tobacco Cessation Program at community events as well as on Augusta University's campuses. Georgia Cancer Center teams regularly attend community events and give presentations on a variety of health promotion and cancer prevention topics, including the health consequences of all forms of tobacco use. To request a presentation or materials, email Fonda Doby, BS, Christine O'Meara, MPH, MA or Maryclaire Regan, MPH.
Great American Smokeout (GASO)
On the third Thursday of November each year, the American Cancer Society promotes the Great American Smokeout. The GASO encourages people to stop smoking and helps them learn about the tools they can use to quit for life. It is an opportunity to encourage people who smoke to mark the day by making a plan to quit or setting this day as their quit date.
This year the GASO is Nov. 18. The Georgia Cancer Center and other departments across the Health Sciences and Summerville campuses will staff "Commit to Quit" stations to share tobacco cessation information and resources and offer people the opportunity to sign up for the Tobacco Cessation Program, free lung screenings or The C Word, a monthly newsletter about a variety of cancer-related topics.
"Commit to Quit" stations can be found at various locations across Augusta University's two campuses, including the lobby of the Georgia Cancer Center, the Children's Hospital of Georgia, the Medical Office Building, the South Entrance of Augusta University Hospital and the Jaguar Student Activity Center.
People who use any form of tobacco, or those who are exposed to secondhand smoke or vapor from e-cigarettes, can breathe easier knowing it is never too late to quit. Support and resources are available right here in our community. According to the American Cancer Society, "You don't have to stop smoking in one day. Start with day one." The Georgia Cancer Center's Tobacco Cessation Program is here to help.