"Everywhere I go, I try to localize the conversation."
The value of connecting local stories with historical lessons was one of several ideas shared by David Stovall, PhD, during his visit as part of the Faculty Inclusive Excellence Initiative's (FIEI) Visiting Scholars Program.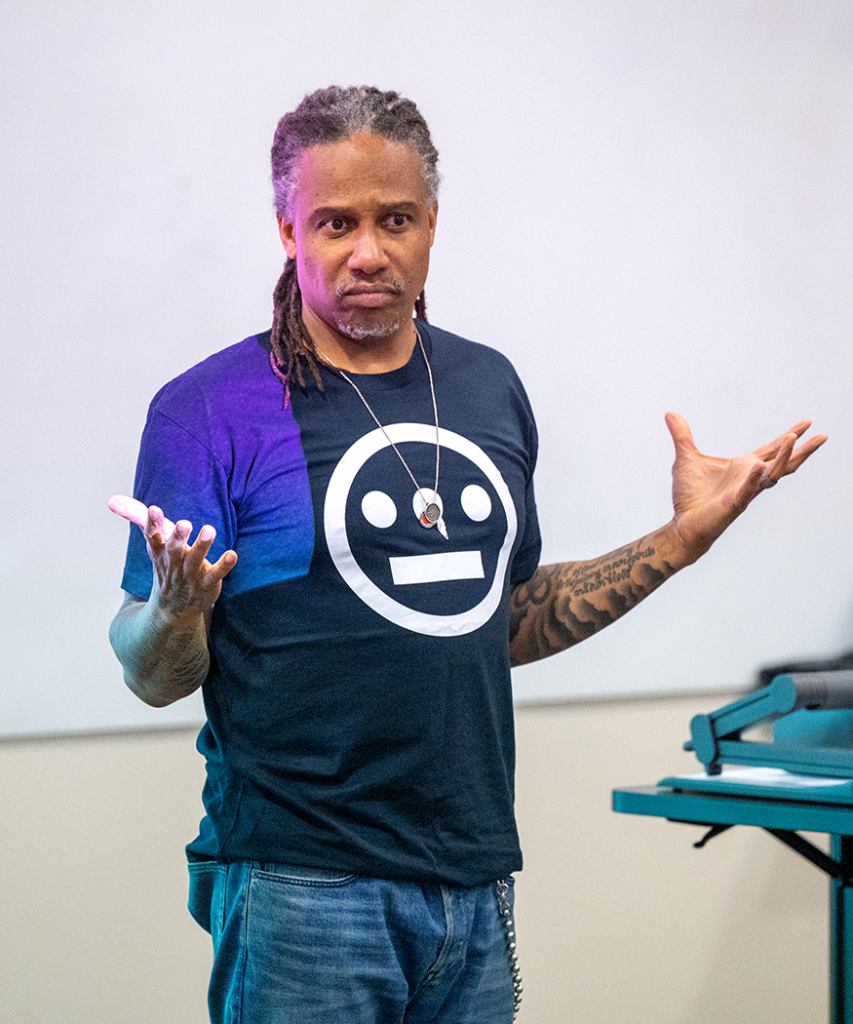 Stovall, a professor in the Department of Black Studies and Department of Criminology, Law and Justice at the University of Illinois at Chicago, recently visited the Research, Counseling and Curriculum Department in the College of Education and Human Development at Augusta University.
"Dr. Stovall's work with schools, teachers and communities was a perfect fit for what we do in our EdD and EdS programs," said Rebecca Harper, PhD, associate professor of language and literacy, and director of the Augusta University Writing Project.
"His commitment to equity and social justice was a major factor in our selection for the Visiting Scholars Program. Dr. Stovall is an established scholar in his field, thus having the opportunity to learn from a scholar of his caliber is highly impactful."
During his visit from Nov. 9-12, Augusta University faculty, staff and students had several opportunities to engage with the distinguished scholar, including in research and writing workshops, meetings with program directors and chairs, and several conversations with faculty and students, particularly those of color.
"I accepted the opportunity because I know Dr. Harper to be someone who has a tireless commitment to education," Stovall said.
"From what I've seen from her over the years, I thought it would be an important opportunity to engage with people who are also trying to change the educational conditions in historically marginalized communities. It is my hope that people took our exchanges over the three days and adapted them to their own work in their respective occupations and commitments."
One of the highlights of Stovall's visit was his presentation about the intersections of race, equity, justice and education, and how the way educators teach and understand history can be used to talk about events that are happening right now in the nation.
During this presentation, Stovall truly "localized the conversation" by not only relating historical events as they pertained to Augusta and the state of Georgia, but also by demonstrating how he has worked to localize conversations with younger learners during his career.
"We often operate around conjecture: 'Well, they said this, and we interpreted it this way.' How about we just go straight to the historical record? Once you go to the historical record, we have a different set of questions to entertain," Stovall said.
"As an educator who works with young folks and families, I am always thinking, 'What does this mean to a group of 14-, 15-, 16- and 17-year-olds who really don't care that I have a PhD?'"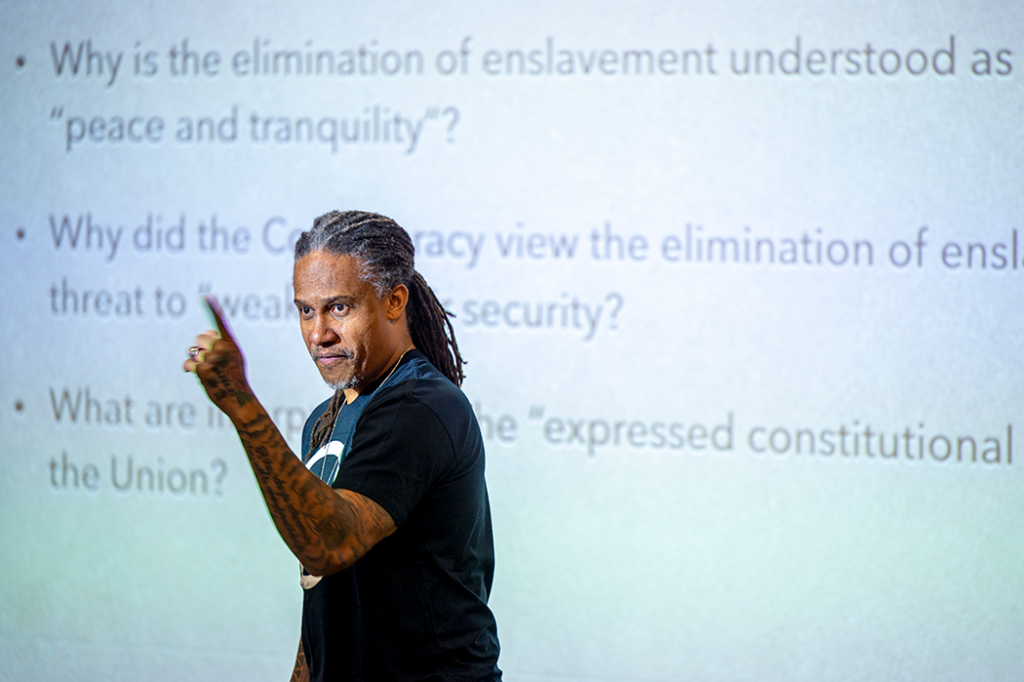 Stovall, who has taught students from a wide range of ages for the better part of 30 years, called upon his experiences with younger learners and talked about how educators can relate subjects better, mostly by identifying how some events aren't as ancient history as one would think.
"Let's be clear, this subject is something that is asking a particular question that is actually returning to us to really ask a deeper question of how we understand the world and in relationship to our locale," he said.
Stovall is best known for his work studying the intersections of race, equity, justice and education, as well as the relationship between housing and education.
In the attempt to bring theory to action, he works with community organizations and schools to address issues of equity, justice and abolishing the school/prison nexus. His work led him to become a member of the design team for the Greater Lawndale/Little Village School for Social Justice, which opened in the fall 2005.
Furthering his work with communities, students and teachers, his work manifests itself in his involvement with the People's Education Movement, a collection of classroom teachers, community members, students and university professors in Chicago, Los Angeles and the San Francisco Bay Area who engage in collaborative community projects centered in creating relevant curriculum.
In addition to his duties and responsibilities as a professor at UIC, he also served as a volunteer social studies teacher at the Greater Lawndale/Little Village School for Social Justice from 2005-18.
Stovall earned a Bachelor of Arts in History, Master of Education and PhD in educational policy studies from the University of Illinois at Urbana-Champaign.
Stovall was the final member of the first cohort of the Visiting Scholars Program. He was preceded by Jennifaye Brown, PhD and Diego Cuadros, PhD. Set to visit next semester are Ricardo Hughes, MD (Emergency Medicine), Latria Graham (English and World Languages), Julia López-Robertson, PhD (Research, Counseling and Curriculum), Roger I. Ideishi, JD (Occupational Therapy), Austin Shull, PhD (Georgia Cancer Center) and Lillie D. Williamson, PhD (Family Medicine).
The FIEI Visiting Scholars Program is a presidential initiative championed by the provost and led by the Office of Diversity and Inclusion with support from the Office Faculty Affairs. It was established to create a comprehensive plan and strategy for hiring and advancing underrepresented faculty at Augusta University and within disciplines and professions. For more information, email the FIEI.