When respiratory therapy student Alex Appling first heard Augusta University was going to hold a health fair for workers at McCorkle Nurseries, Inc., she was excited for the hands-on opportunity.
"I haven't had much patient interaction, so it's just cool to be able to practice what we've been learning in the classroom," said Appling, a junior in the College of Allied Health Sciences. "To see everyone come together for this has been nice."
While finishing her education at AU, Dr. Jessica Stewart, a postdoctoral fellow in the The Graduate School, responded to a flyer from Corporate Health Partners. They were looking for a bilingual health coach as they were trying to set up a wellness program at McCorkle. Stewart accepted the position while also working as a part-time research assistant at AU.
Once she finished her doctoral program, Stewart was hired at AU as a postdoctoral fellow with the Department of Population Health Sciences and immediately went to work on creating an expanded health fair.
"Dr. (Pam) Cromer was part of my doctoral committee and has been a mentor to me, and I've been doing outreach with Costa Layman for the past six years," Stewart said. "When I worked for McCorkle, I understood what they were looking for and what kind of needs they had. I kept reaching out to Augusta University and talking to Pam about this community, how similar it was and what a great opportunity it would be for us. And really, it wasn't a lack of resources, but nobody was there to carry the banner."
Soon after, Cromer recommended Stewart reach out to Dr. Monirul Islam, Associate Professor in Epidemiology and Faculty of the Institute for Public and Preventive Health, who had previously shown interest in the Costa Layman health fair. Islam's postdoctoral fellow, Dr. Lorriane Odhiambo, responded to Stewart and became a co-organizer.
"The resources were always there, but they needed somebody to run around and coordinate it," Stewart said. "Costa Layman is a great model event, and we're following that community model here with the guidance of the College of Nursing and Dr. Cromer.
"But this is a separate thing; you need those community partnerships and those community relationships that existed with Costa Layman and Dr. Cromer and Debbie Layman. That exists here with myself in this population. It was perfect."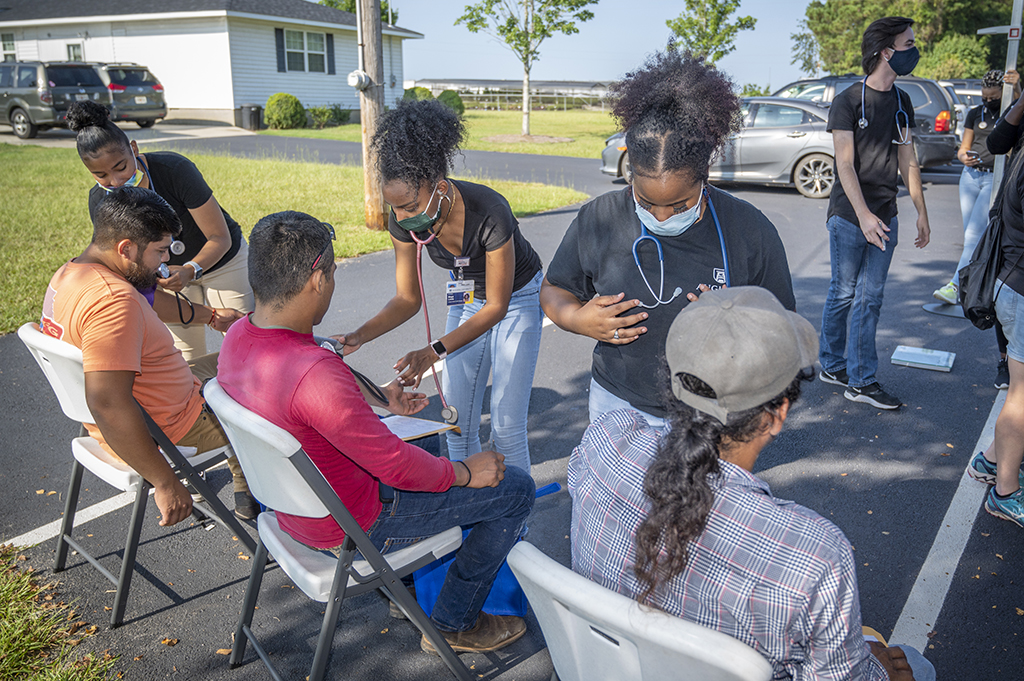 The health fair, which was held Aug. 13 at Calvary Baptist Church in Dearing, helped 120 people, of which 90 were migrant workers from Mexico. Participants included AU's
Respiratory Therapy
Program, the
Dental College of Georgia
, the Master in
Public Health
Program (HPSA), the
Master of Science Dietetic Internship
, and the
Institute of Public and Preventive Health
, along with University Health's
mammogram van
,
Shepeard Community Blood Center
, the
Georgia Department of Public Health
and Corporate Health Partners.
"It is vitally important to have an event like this, and it's something we've done on a much smaller scale for several years. We're so excited to be partnering with AU to really make this robust, and to serve our community and to serve our people and keep them safe and healthy," said Skeetter McCorkle, president of McCorkle. "That's really the focus of so many things that we want to do here at McCorkle Nurseries."
He praised Stewart for putting the event together while also recognizing her efforts before as the health coach, which helped earn the trust and respect of those at the nursery.
"She is the leader that's put all this together and has done just a fantastic job with it," McCorkle said.
Paula Kitchens, who has been the human resources manager at McCorkle for more than three years, said McCorkle offers health coverage to its employees, but not all participate. Kitchens said the employees were excited about having the event while getting a chance to learn more about their health.
"McCorkle Nurseries is a Christian-based company, and our company is involved with Calvary Baptist Church," she said. "We've used the church facility in the past for other types of events, and they're certainly interested in helping the community."
Dr. Michelle Fielden, assistant professor in the Dental College of Georgia's Department of General Dentistry, said her primary focus with students is in clinical instruction. She supervised fourth-year dental students during the event, who were eager to participate while also getting some hands-on experience.
"They were all excited about coming out and do something different. They all enjoy volunteering," Fielden said. "It's one thing to see something on paper, but it's a whole different thing to actually have your hands in someone's mouth and have an opportunity to really learn that way. This just gives them more exposure to patients and different types of needs that the patients have – and also shows them the need out in the public for the underprivileged patients."
Stewart spent much of her time running back and forth directing patients in Spanish to the different booths. The self-professed "talker" learned to speak Spanish while serving as a rural health Peace Corps volunteer in El Salvador, and speaks the language as much as she can so she doesn't lose it.
Her previous work at McCorkle, as well as her use of Spanish, has gone a long way to putting those workers at ease who aren't as fluent in English — especially when it comes to interacting with a health care professional.
"My relationship in this community isn't just with the leadership, but also with the workers here," she said. "So many of them know me and see me, and I think that opens the dialogue for conversations about things that they might not want to talk about with somebody who is unknown to them."
Stewart said the outpouring of support for those who volunteered as well as their motivation to get involved was overwhelming.
"I think this shows that it was a multi-departmental and college effort. People are eager to be out here and do something in the community," Stewart said. "This first event has far exceeded my expectations, thanks to the number of students that came out here. Some were actually on break and others just started a few days ago. It's just incredible."